Stoxx Europe 600 Surges to Flirt With Record on Trade, U.K. Vote
(Bloomberg) -- European stocks jumped on Friday, with the Stoxx Europe 600 briefly surpassing its record closing level, as the U.S.-China phase-one trade deal and Boris Johnson's victory in the U.K. election helped the market resume its strongest rally in a decade.
The Stoxx Europe 600 gained 1.1%, piercing its historically high closing level from April 2015 earlier in the day but closing just shy of its record. The FTSE 250 of U.K. mid-cap stocks surged as much as 5.4%, closing at a record high on the optimism of an economic recovery and political clarity.
Johnson's victory may prove to be a major turning point for European equities as the election gives the prime minister the mandate he needs to pull the U.K. out of the European Union next month, potentially removing a significant risk from the region's assets. European equities remain under-owned despite their 22% rally this year, with about $100 billion having left the region's stock funds in 2019, according to EPFR Global data.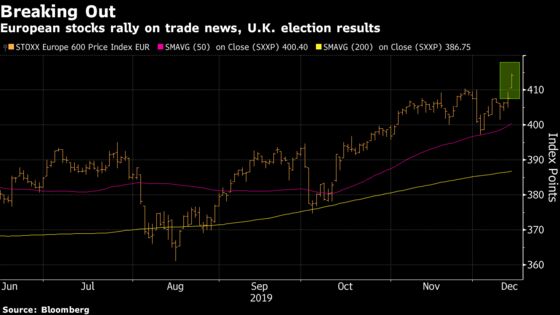 "Some investors will see today as Christmas come early as we see a convergence of two critical political risks coming to some resolve," said Dean Turner, an economist at UBS Wealth Management. "Indications of a strong electoral outcome in the U.K. and developments toward a Phase 1 U.S.-China trade deal have lifted the mood in the markets."
U.K. banks, housebuilders and airlines featured among the biggest gainers while the pound surged, as the Conservative Party's election victory lifted the uncertainty that has persisted since the country voted to leave the EU.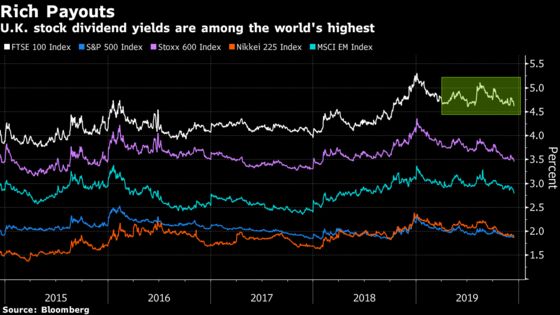 "In a world starved of yield, the U.K. equity market is awash with compelling dividend opportunities -- this decisive election result means these companies will return to the radar of international investors," said James de Uphaugh, chief investment officer at Majedie AM, in London.