European Stocks Surge With U.S. Democrats on Cusp of Senate Win
(Bloomberg) -- European equities gained as Democrats looked set to take control of the U.S. Congress, with cyclical sectors rallying on optimism that stimulus may be increased.
The Stoxx Europe 600 Index closed 1.4% higher, its biggest advance in almost two months. Banks surged 5.5% as the U.S. 10-year yield rose above 1% for the first time since March. Miners and insurers surged, while Saudi Arabia's pledge to slash crude oil output in the coming months boosted energy stocks.
In the U.K., the FTSE 100 posted its best start to the year on record, with a three-day gain of 5.9%. It was bolstered by its heavy weightings in mining, energy and bank stocks, while weakness in the pound against the dollar also supported the index. U.K. lenders Standard Chartered Plc and HSBC Holdings Plc were the top performers in the Stoxx 600.
In the first Georgia runoff, Democrat Raphael Warnock ousted Republican Kelly Loeffler to leave control of the U.S. Senate hinging on the state's other election, where Jon Ossoff held a slight lead and claimed victory. Investors are speculating that if Democrats prevail, they will usher in more spending to support economic growth and bring tougher antitrust scrutiny to the technology giants.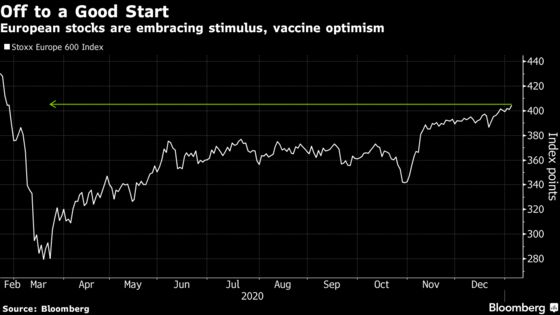 In addition to technology, health-care stocks lagged. Democratic control of the Senate could help President-elect Joe Biden pass an agenda that includes strengthening the Affordable Care Act, while targeting drug prices.
"Near term, post Biden's election, positivity could continue to help sentiment towards Europe, in particular if the Democrats were to take the Senate," Barclays Plc equities strategist Emmanuel Cau wrote in a note. "The new U.S. administration could bring less confrontational trade policies and adopt a more consensual approach with foreign partners."
European renewable-energy and U.S.-exposed construction stocks advanced on Wednesday. A Democrat-controlled Senate would make it "much more likely we will see investment targeted towards the greener sections of the economy," said Stuart Clark, a portfolio manager at Quilter Investors. He's also betting on increased infrastructure spending.
Investor sentiment was also helped after Moderna Inc.'s vaccine got the backing of the European Union drugs regulator, clearing the path for another means to contain a resurgence of the virus in the region.