European Shares Gain as HSBC Inspires Banks; Italy Advances
(Bloomberg) -- European shares climbed at the open, giving investors some relief in what is still set to be the worst equity-trading month in more than three years.
The Stoxx 600 Index rose 0.5 percent, led by the banking sector. HSBC Holding Plc soared after the London-based bank posted solid results. Technology shares gained in line with the benchmark after IBM's mega deal to acquire software maker Red Hat Inc. for $33.4 billion.
Italian shares jumped Monday at the open after S&P Global Ratings lowered its outlook on Italy to negative Friday and kept the sovereign rating unchanged at two notches above junk. The FTSE MIB rose 1.7 percent, leading gains among the largest European markets. Spanish shares also outperformed after Jair Bolsonaro won Brazil's presidential election.
"Volatility will remain but markets can't move abruptly every day, today we would expect to see a calmer session," Carlos Gutierrez, head of equities at Spanish asset manager Dunas Capital, said by phone. "We are heading to the end of the cycle but we are not there yet so, for long-term investors, it is a good moment to be buying back into equities."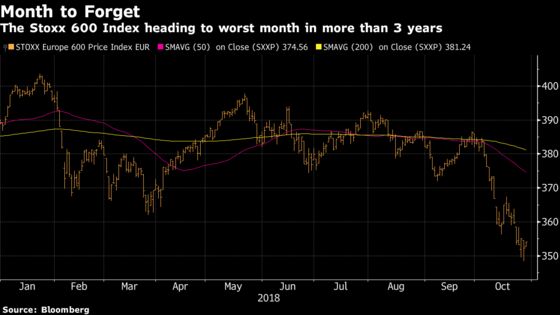 British Chancellor of the Exchequer Philip Hammond will on Monday present the U.K. budget, which should be about signaling tax and spending plans.