Europe Politics Only Has Cliffhangers, No Finale for Stocks
(Bloomberg) -- What's worse than a political showdown for investors? A battle with no end in sight.
That's what seems to be in store as two of the region's biggest political risks -- Brexit and Italy -- return to the headlines this week. In the case of Brexit, a deal looks out of reach, once again, as support for the U.K. Prime Minister's proposal crumbles. As for Italy, the government is likely to stick to its controversial budget deficit, while cutting its growth target in a minor concession, local media reported, after the European Commission earlier rejected its fiscal plans.
The risk of a rupture between Italy and the EU has made global funds even more reluctant to invest, especially with the fallout from Brexit still hanging over the region. European equities have seen outflows in 34 of the past 35 weeks, when shares in Japan, the U.S. and even emerging nations all absorbed new money, according to Bank of America Merrill Lynch.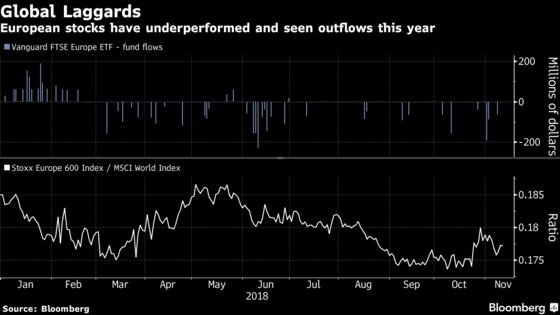 "The standoff between Italy and the EU is likely to stay," said Alessio de Longis, a fund manager at Oppenheimerfunds Inc. in New York. "Italy is important here because it creates the risk of contagion that we're very familiar with from 2011 where wider sovereign spreads in Europe affect banks' balance sheets."
Oppenheimerfunds is considering reducing its European stock exposure further, amid other risks including the end of quantitative easing and slowing economic growth.
As for a Brexit deal, investors have been riding a roller coaster between hope and disappointment, making it hard to position for any particular outcome. Leigh Himsworth, manager of a U.K. fund for Fidelity International, has some domestic stocks in his portfolio, but also holds exporters that would benefit from the pound's slide if talks collapse.
The problem for Prime Minister Theresa May is that she needs to reach a deal with the EU that will also get the go-ahead from her own parliament. The final stage of talks is proving "immensely difficult," she said Monday. Negotiators believe they only have until Wednesday to secure a deal if it's to be signed off by a special EU summit this month.
Even if May presents a plan to parliament, it's still "touch and go" whether it would be approved, Himsworth said. "We may reach a position at the end of March where we get some form of deal, but there's still uncertainty as to how each individual industry is impacted because there's still an unbelievable amount of work to do."
U.K. mid-caps, which tend to be more domestic, regained some ground of late versus more globally oriented large-caps as expectations for a deal picked up. This trade saw some unwinding on Monday as optimism began to evaporate yet again.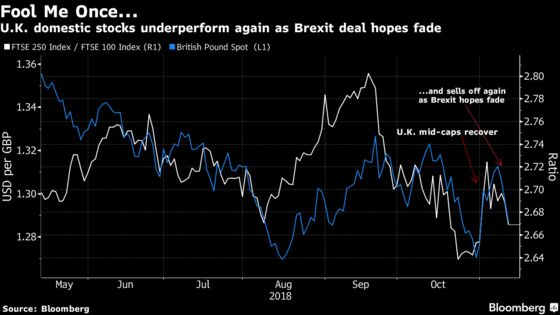 To make things worse for European stocks, recent economic data have deteriorated, asset purchases are ending, and earnings have become more disappointing.
"At this point, it is hard not to conclude that the most likely outcome is one in which there is no firm deal in place by the end of March," said Abi Oladimeji, chief investment officer at Thomas Miller Investment Ltd. in London, referring to the U.K. With the combination of Brexit talks and Italy's budget, "we would expect European stocks to remain under pressure."