Court Asks Turkey to Free Kurdish Leader Who Challenged Erdogan
(Bloomberg) -- The European Court of Human Rights unanimously ruled that Turkey should release top pro-Kurdish politician Selahattin Demirtas, finding that his prolonged detention was designed to restrict political freedoms during two crucial elections.
In a ruling Tuesday, the court said Demirtas had been arrested in November 2016 on "reasonable suspicion" of having committed a criminal offense. However, it said there were insufficient grounds for extending his captivity through a period which included a 2017 referendum on granting sweeping powers to President Recep Tayyip Erodgan, something Demirtas's HDP party opposed, and a subsequent presidential election he was forced to contest from jail.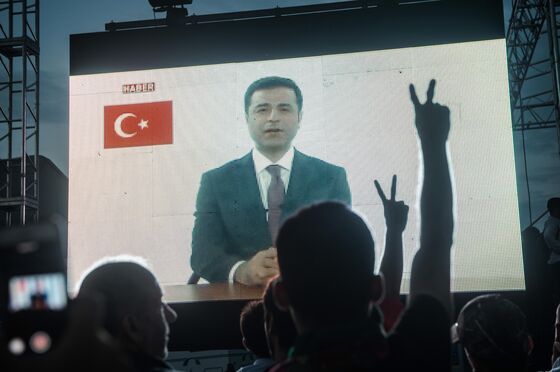 His custody "had pursued the predominant ulterior purpose of stifling pluralism and limiting freedom of political debate, which was at the very core of the concept of a democratic society," the court said in its ruling, calling on Turkey to take all necessary measures to free him.
Commenting on the verdict, Erdogan said Turkey wasn't bound by the court's decisions. The final decision on Demirtas will be taken by Turkish courts, NTV reported Justice Minister Abdulhamit Gul as saying in response to the ruling.
The HDP won an unprecedented 80 seats in a mid-2015 parliamentary election, denying Erdogan's AK Party a majority for the first time in its then 13-year rule. In a re-run vote later that year, the AKP regained its legislative majority even though the HDP again crossed the 10 percent vote threshold needed to seat lawmakers.
The following year, authorities launched a crack down on the HDP, stripping its lawmakers of their immunity from prosecution and arresting several top members, including Demirtas and his fellow party co-chair Figen Yuksekdag.
The government accused the HDP of being a front for the PKK rebel group that has been fighting for independence in Turkey's southeast for decades. The PKK is classified as a terrorist organization by Turkey, the U.S. and European Union.
In an interview with Bloomberg in 2016, Demirtas said the HDP rejects violence and sees the PKK's armed rebellion as "a result of policies of denial, massacre and assimilation."
Demirtas contested this year's election for president won by Erdogan from a maximum-security prison in the western city of Edirne.
The court said Demirtas's inability to take part in National Assembly activities after his detention constituted an "unjustified interference" with free expression and with his right to be elected and to sit in parliament. It ordered Turkey to pay Demirtas 25,000 euros in damages, costs and expenses.