European Court Asks Russia to Release Navalny Immediately
(Bloomberg) -- The European Court of Human Rights asked Russia to release jailed opposition leader Alexey Navalny immediately, although the country's Justice Ministry said it would ignore the order.
A panel of seven judges ruled on Feb. 16 that failure to comply with the order under its Rule 39 could be a breach of the European Convention on Human Rights, according to a letter sent on Wednesday from the Strasbourg court to Navalny's lawyer Olga Mikhailova.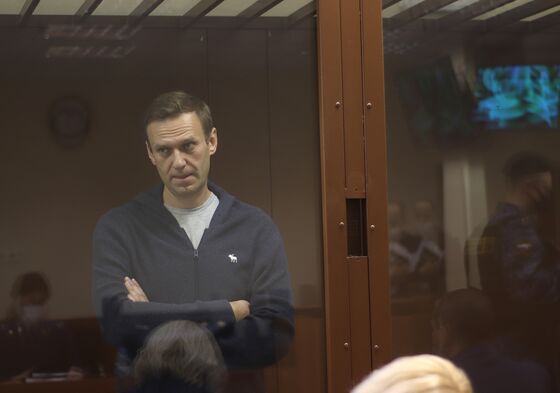 The court said it ordered this interim measure ahead of its consideration of his case given the apparent risks to Navalny's life and in the light of the overall circumstances of his current detention.
A day before the announcement, the Russian Justice Ministry said such a ruling would amount to interference in the court system of a sovereign state and said it wouldn't free Navalny, state-run Tass news agency reported Tuesday.
Navalny was jailed in January upon his return from Germany, where he had been recuperating from a nerve-agent attack that he blames on President Vladimir Putin. His detention set off the biggest unsanctioned protests in years and was condemned by the European Union and U.S., which are both considering new sanctions to punish the Kremlin for his imprisonment.
Despite the widespread outrage, Navalny had a suspended sentence converted to a prison term of nearly three years earlier this month due to violations of his parole. He was originally convicted in a fraud trial involving the Russian branch of French cosmetics company Yves Rocher in 2014 in a case the ECHR ruled was politically motivated.