Europe's Vow to Buy More U.S. Soy Won't Make Up for China Losses
(Bloomberg) -- The promise President Donald Trump extracted from the European Union to buy more soybeans from U.S. farmers won't put much of a dent in the potential losses from a continuing trade war with China.
The EU is the second-biggest buyer of the U.S. oilseed. But that is a distant second to China, which bought $12.3 billion of the U.S. soy last year compared with the $1.6 billion exported to the EU. Losses in sales to China stemming from an escalating trade spat are causing political headaches for Trump and farm state Republicans in Congress that Europe won't be able to relieve.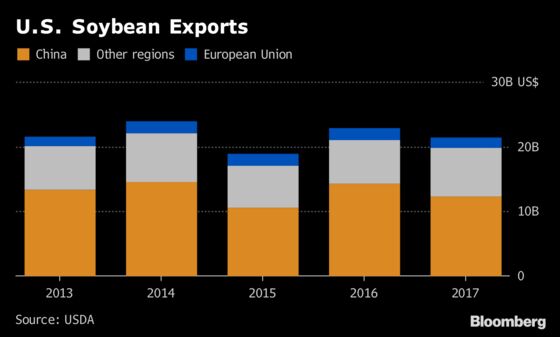 Even if the EU bought soybeans exclusively from the U.S., it would add about 10 million tons of demand and offset only about 35 percent of the 27 million tons of demand lost from China if the Asian nation completely halted U.S. purchases, said Michael Magdovitz, an oilseeds analyst at Rabobank International.
Trump highlighted the promise of more EU soy buying as part of a deal that pulled the two trading partners back from the brink of a tit-for-tat tariff war.
"Soybeans is a big deal. And the European Union is going to start, almost immediately, to buy a lot of soybeans -- they're a tremendous market," Trump said Wednesday as he stood next to European Commission President Jean-Claude Juncker outside the White House.
EU purchases were bound to rise anyway because U.S. soybeans are trading at a discount relative to those from Brazil. That country's soybeans have become more expensive due to increased demand from China.
"EU processors have significantly increased their purchases of U.S. soybeans in recent months because of the massive price difference to South America," Magdovitz said.
Soybean futures in Chicago were up 4.5 cents to more than $8.80 a bushel in midday trading Thursday. Earlier in the day they touched $8.96 cents a bushel, the highest since July 9, which was shortly after China imposed duties on U.S. exports.
Farm and rural areas gave Trump crucial support in the 2016 presidential election and since China imposed tariffs on U.S. agricultural products, the president has repeatedly promised farmers they would come out better off. He's at an event Thursday in Iowa, the second biggest soybean producing state. The Trump administration this week announced a $12 billion assistance plan for farmers hit by tariffs.
Republicans are hoping the EU agreement helps offsets some of the potential political damage. House Agriculture Committee Chairman Michael Conaway, a Texas Republican, thanked the Trump administration on Wednesday "for having our farmers' and ranchers' backs, including today's announcement on expanded market access in Europe."