Europe's Most Stable Economy Says It's Time to Share the Wealth
(Bloomberg) -- The Czech Republic must distribute its growing wealth more widely, and even a cooler economy won't stop higher social expenditure and investment, according to the country's finance chief.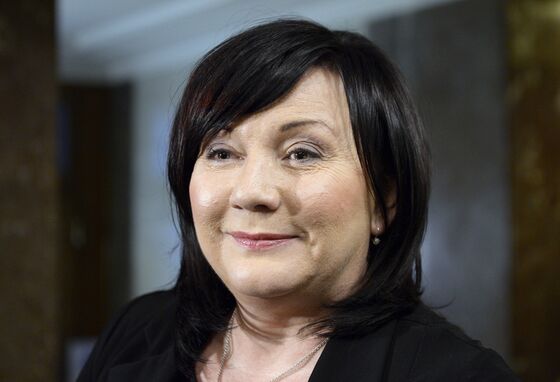 The richest former Soviet satellite is relaxing traditional spending controls that have underpinned one of Europe's sturdiest budgets. Just five years after austerity exacerbated a record-long recession, Alena Schillerova -- the first female finance minister in the nation of 10.6 million people -- is allocating more to everything from retirement benefits and public-sector wages to long-overdue infrastructure projects.
"Our top priority for next year is to improve the situation of senior citizens," Schillerova, 54, said in an interview. "When else should we increase pensions than at a time of prosperity? I think we're doing well and society should share the benefits of economic growth with those in need."
As Italy clashes with the European Union over its deficit, the Czechs are enjoying a windfall that may tip this year's budget into surplus. Speaking Friday in her office in Prague, Schillerova rejected criticism the government's policies are aimed at boosting its popularity and brushed aside warnings of fiscal risks stemming from a downturn.
With the EU's lowest unemployment and the fastest real-wage growth in 15 years, state coffers are benefiting from lower spending on benefits and higher tax collection. The Czech Republic boasts one of Europe's lowest debt ratios, and strong fiscal performance contributed to Allianz SE ranking the ex-communist nation the EU's most stable economy for 2017.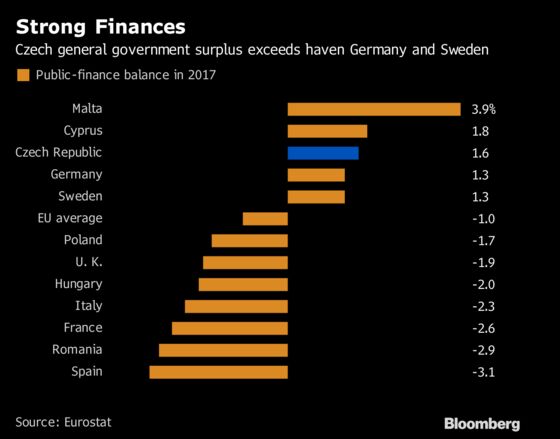 The central state budget, a narrower measure that excludes items including municipalities, will probably be balanced or in "a very slight surplus" this year, instead of the planned 50 billion-koruna ($2.2 billion) deficit, according to Schillerova. She says the 40 billion-koruna shortfalls her ministry forecasts for 2019-2021 may be smaller.
"We have a tradition of making conservative forecasts, so the budget result is almost always better than the plan," the minister said. The proposed deficits are meant to be "a cushion for the expected soft landing of the economy, although it would be logical to keep reducing the deficit, which I still hope to do."
Plans to raise public wages and pensions triggered a warning from the National Fiscal Council, an independent watchdog, which said 2019's draft budget boosts so-called mandatory spending and limits room for future stimulus.
Billionaire Prime Minister Andrej Babis, finance minister in the previous administration, has promised more funding for hospitals, schools, roads and railways since winning elections last year. While the opposition calls his program unsustainable, Babis's policies resonate with voters and his ANO party maintains a wide lead in polls.
Top priorities include transport infrastructure. Almost 30 years after the fall of the Iron Curtain, the country still lacks a highway to neighboring Austria, and a rail trip from Berlin to Vienna via Prague takes about an hour more than a route that's a quarter longer but skirts the Czech Republic altogether.
"We're now trying to compensate for insufficient spending in the past," said Schillerova. "The measures taken during the latest economic crisis were drastic to my tastes, very anti-social. I wouldn't want to ever see that happen again in this country."