Europe's Latest Rift Pits East Versus South in Funding Battle
(Bloomberg) -- A proposal to cut the funding of the European Union's newest members in favor of Mediterranean states dealing with unemployment and immigration is a slap in the face for those who have taken tough steps to overhaul their economies, according to Hungary's finance minister.
New battle lines are being drawn between the ex-communist and southern members over the bloc's 373 billion-euro ($432 billion) spending plan for poorer members for the period 2021-2027. With the European Commission proposing to cut so-called cohesion funding to the easterners by as much as a quarter, policy makers from Warsaw to Budapest are crying foul.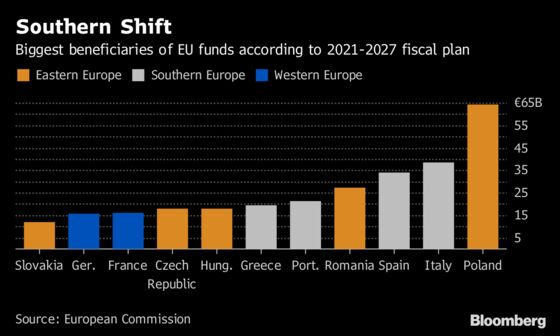 EU Regional Policy Commissioner Corina Cretu said Tuesday that the proposed shift reflects increased prosperity in eastern European countries, many of which are enjoying record-low unemployment and booming economic growth. Hungarian Finance Minister Mihaly Varga said the planned cuts were tantamount to punishment for countries that managed to overhaul their economies.
"We also had these issues but made efforts to tackle them," Varga told Bloomberg in an interview this week. "It's unfair and unreasonable to punish developing CEE countries that have been performing well."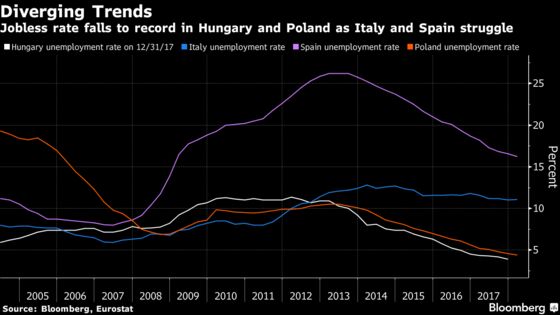 The debate adds a new rift within the EU, where northern states fearing the breakup of the euro area during the height of the global financial crisis fought southern members over the need for austerity measures. More recently, populist leaders in Hungary and Poland have clashed with their EU peers over concern that they're undermining the bloc's democratic values.
With Britain's planned departure straining the EU's next budget, the debate over funding allocation has only begun. Poland is still set to remain the biggest single beneficiary, even with the planned cuts. According to Varga, a better solution than sending more cash to countries with high unemployment would be for officials there to reform their economies.
"We also had high unemployment, but we introduced measures to resolve the issue," Varga said. "Therefore, they too need to implement economic measures that help significant job creation."