Latvians Vote as EU's Latest Populists Spice Up Election 
(Bloomberg) -- Latvians go to the polls Saturday, with an establishment-bashing upstart injecting drama into the country's usually dull elections.
The tiny Baltic nation is getting a taste of the populism that's upended politics from London to Rome as a brash new party threatens to rip up the regular script. Its rise challenges the center-right coalitions that routinely prevail in this European Union and NATO member. The highest number of undecided voters in more than a decade adds to the uncertainty. Voting runs from 7 a.m. to 8 p.m. local time.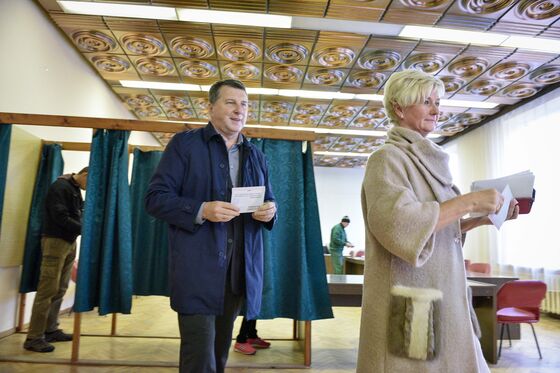 Polls suggest traditional parties will once again be able to close ranks to form a government after the ballot. But newcomer KPV LV -- meaning 'Who does the state belong to?' -- has found its promises of "radical change" and an end to workers fleeing west for higher pay are resonating.
It won't rule out working with Harmony, a party catering to Latvia's ethnic-Russian minority that habitually wins the highest number of votes but has never governed. Such an alliance would rattle many in Latvia, which was once an unwilling member of the Soviet Union. Fear of Kremlin meddling remains acute, particularly after the annexation of Crimea.
"There's a very pronounced anti-establishment mood in Latvia," said Arnis Kaktins, director of the SKDS pollster. "There's a huge desire for something new. If we look in the larger context, the same thing is happening in a number of other countries in Europe."
The parliamentary arithmetic will be complicated. As many as eight parties are set to enter what President Raimonds Vejonis warned this week would be a fragmented assembly. Prime Minister Maris Kucinskis will hope his Union of Greens and Farmers, the most popular party in the current ruling alliance, can stitch together another coalition.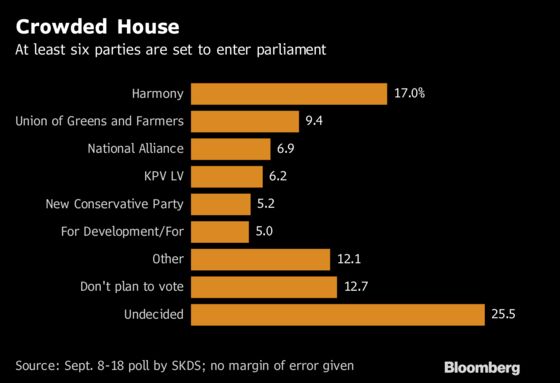 The success of KPV LV, once third but now polling fourth, may hinge on which way the quarter of the electorate that's undecided eventually leans. With migrants a minor issue in Latvia, the party berates the elites, wants to drastically shrink government and pledges not to raise taxes. It's been especially active on social media and has courted diaspora in places such as the U.K. and Ireland.
KPV LV declined to comment for this article.
Like the newcomer, Harmony is tight-lipped on the prospect of the pair teaming up. But it's revamped its image to widen support beyond the 25 percent of the population that identifies as ethnic Russian, abandoning a much ridiculed cooperation agreement with the United Russia party that backs President Vladimir Putin and joining the European Socialists.
"This system isn't working -- it doesn't deliver what it promises people, which is prosperity, higher pensions and becoming like Europe," Vjacelsavs Dombrovskis, Harmony's candidate for prime minister, said in an interview. "Harmony is the party that's undertaken the monumental task of uniting Latvians and non-Latvians."
A party with a similar support base among Russian speakers took over neighboring Estonia in 2016, breaking a taboo for the Baltic region. There's since been no discernible change in security or foreign policy, which may reassure Latvians. Whatever the outcome of the election, Vejonis said the next prime minister must be someone who supports the country's current pro-European and American direction.
Demands among voters for change are understandable in a year of money-laundering scandals for the country's lenders and corruption charges against the central bank governor. The second-fastest economic growth in the EU and unemployment near a decade-low haven't convinced the public that Latvia is on the right path, a September poll showed.
KPV LV has managed to convince many that "the rotten ruling class has corrupted the state, and no positive changes in Latvia are possible without removing them," Una Bergmane, a political scientist and teaching fellow at the London School of Economics, said in an analysis for the Foreign Policy Research Institute.