Europe's Graft Trouble Spot Sinks Into Crisis at Worst Time
(Bloomberg) -- Bulgaria's president and prime minister are trading accusations in an escalating dispute over corruption that's threatening the nation's push to adopt the euro and join Europe's passport-free Schengen zone.
Triggered by a crackdown by the newly appointed chief prosecutor, the standoff underscores a decades-long battle for influence in the Black Sea state. At its center are powerful oligarchs and suspected organized crime figures, officials accused of turning a blind eye to their activities and prosecutors who hold more power than anywhere else in the European Union.
It comes at a crucial time for ex-communist Bulgaria, which is vying to end 12 years of scrutiny from the EU into its judiciary and anti-corruption efforts by showing the country's authorities can be trusted on issues from policing banks to securing borders.
"The government is obviously under some pressure," said Michael Taylor, a senior eastern Europe analyst at Oxford Analytica. "Brussels may be concerned about introducing the euro in another country where the government can't be trusted much."
President Rumen Radev, whose immunity status is being probed by prosecutors, assailed Prime Minister Boyko Borissov's government this week for what he said are failures that have led to the breakdown of state bodies.
"The lack of will for reforms and for the fight against corruption and waste, the methodical violation of the law and morality has led to the paralysis of Bulgaria's whole social system and institutions," Radev said.
Borissov, who is leading his third cabinet since 2009, said the president is "looking for confrontation with the government."
Sofia has set a goal to adopt the euro in early 2023 after its first bid to join the currency's waiting room was delayed because of doubts over its banks. Similar institutional concerns have blocked it from entering Schengen. The country ranks at the bottom of Transparency International's Corruption Perception Index as the worst in the EU after Romania and Greece.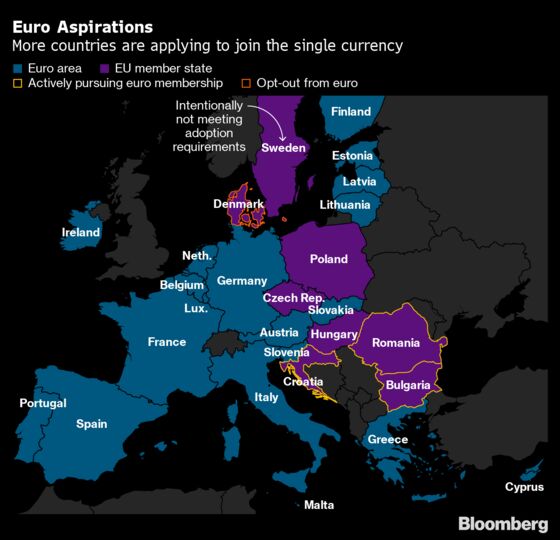 The U.S. has also criticized Bulgaria. On Wednesday, Secretary of State Mike Pompeo sanctioned the first Bulgarians, Specialized Criminal Court Judge Andon Mitalov and his family, for "his involvement in significant corruption." Mitalov issued an order in October allowing a Bulgarian suspect in a Russian spying case to travel to Moscow, where he received an award from President Vladimir Putin.
The current dispute began after Chief Prosecutor Ivan Geshev, appointed last year over the objections of Radev, judges and human-rights groups, asked the Constitutional Court to clarify a question on Radev's immunity after a conflict-of-interest investigation was halted due to his possible involvement. Radev denies wrongdoing.
That coincided with the detention of gambling tycoon Vasil Bozhkov in the United Arab Emirates on charges including leading an organized crime gang and bribery. Long known in Bulgarian media as "the Skull," Bozhkov is considered one of the country's richest people. He says none of the charges have been proven.
"What we're seeing now isn't new," Dimitar Bechev, a non-resident Senior Fellow at the Atlantic Council in Washington, said by phone. "The most probable motivation is a battle between oligarchic circles."
Geshev's moves follow years of impunity for alleged law-breakers in the country of 7 million, which joined the EU in 2007.
Since 1995, at least 150 high-profile figures, including a prime minister, 15 soccer-club bosses, a presidential adviser, city officials and dozens of mob bosses have been murdered. Officials have convicted only a handful of people for the crimes.
In the last seven years, police, special forces and prosecutors have also conducted raids against the businesses of many of Bulgaria's elite. Dozens of ministers, acting and former, and other government officials have been charged with abuse of power or mismanagement. None have been jailed.
Geshev himself led the 2014 investigation into Corporate Commercial Bank, then the country's fourth-largest lender. The operation ended with the trial of 18 people charged three years after a bank run that threatened the stability of the country's financial sector. No convictions resulted.
The EU has noted multiple times how the powers of the prosecutor shield him from scrutiny, and Geshev and his predecessors have faced criticism for targeting selected cases while ignoring others.
Radev has been pushing since last year for a public debate to change the constitution to make the chief prosecutor more accountable. Geshev rejects the accusations.
"My personal battle is to adhere to the law and to provide justice to Bulgarian citizens," Geshev said.