Macron and Merkel Are Signaling They've Finally Had Enough of Trump
(Bloomberg) -- After U.S. assaults on Europe over issues from trade to climate change, Angela Merkel and Emmanuel Macron are signaling they've finally had enough.
Within 24 hours of one another this week, the German and French leaders made what would have once been remarkable interventions, calling on Europe to establish greater autonomy from the U.S. The common message was it's time to reassert the continent's sovereignty in the face of President Donald Trump's capriciousness.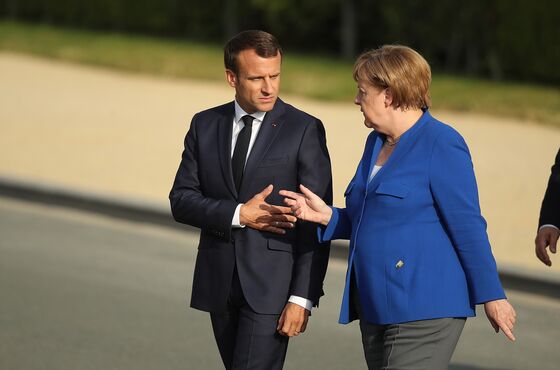 Both are pushing the EU to take on more global responsibility for defense while weighing a plan to create a separate financial system to ensure European autonomy. As the finance ministers of both countries pick up the discussion during talks in Paris on Wednesday, a question mark remains over whether it's even feasible for a continent so intertwined with the U.S. to take back control.
"We really are seeing now how Europeans are adjusting their sense of position globally," said Kristine Berzina, a senior fellow at the German Marshall Fund in Brussels. "The calls for a stronger Europe, on trade as well as on security and defense issues, grow partially out of the frayed trans-Atlantic relationship and also out of concerns over the future of the EU, given rising nationalism in member states and given Brexit."
Since winning the White House, Trump has undermined the pillars of the post-World War II order, questioning the importance of the North Atlantic Treaty Organization, pulling out of a nuclear accord with Iran that European powers helped negotiate and saying, in the midst of a trade war, that the EU was a "foe" of the U.S. That has prompted Germany and France as the EU's de facto leaders to consider alternative arrangements.
Yet true financial independence for the EU would imply a currency that could supplant the dollar's essential global role and a financial framework that could compete with Wall Street, goals that would take many years to attain, if at all. And defense capabilities allowing Europe to safeguard itself look like a tall order for a continent where only five of 29 NATO allies meet the alliance's target to spend 2 percent of economic output on defense.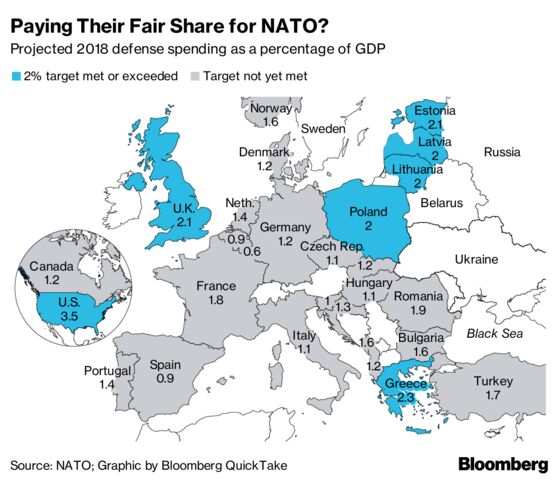 A key trigger for moves to establish greater independence was Trump's decision announced in May to pull the U.S. out of the Iran nuclear accord, forcing European companies including Daimler AG and Total SA to pull out to avoid U.S. sanctions. French Finance Minister Bruno Le Maire and German Foreign Minister Heiko Maas suggested on Monday that EU countries set up payment systems independent of the U.S. to sidestep the new regulations.
"We are determined to work on an independent European or Franco-German financing tool which would allow us to avoid being the collateral victims of U.S. extra-territorial sanctions," said Le Maire. "I want Europe to be a sovereign continent not a vassal, and that means having totally independent financing instruments that do not today exist."
For More Stories on the Trans-Atlantic Rift
Maas made a similar suggestion a week ago in an op-ed, saying the goal was to shield European businesses from American sanctions. And while Merkel stopped short of backing Maas's proposal, she said she and her foreign minister "by and large" agree that Europe increasingly needs to shape its own destiny.
Models under consideration include an alternative system to Swift and a mechanism which would, for example, enable oil contracts to be settled against other deals, according to a government official with knowledge of the discussions.
The idea of separate European financing "is the strongest call yet for EU financial and monetary autonomy vis-a-vis the U.S.," said Steven Blockmans, an analyst at the CEPS policy center in Brussels. But such proposals won't be easy to get off the ground given competing views within the euro area, he said.
Holger Schmieding, chief economist at Berenberg in London, said it'd be hard for such a system to help Iran because of the time needed to build it, "and even then it remains to be seen if companies will use it."
The European push comes at a pivotal moment for the bloc: Autocratic leaders in eastern Europe are testing the bounds of the EU's rules; the U.K. is on the cusp of leaving the union; and a clash with Italy over spending and migrants is looming as the next major flash point.
Internationally, for all Macron's assertions that moves to increase Europe's defense and security capabilities are not meant as a move against the U.S., Trump's America First approach adds to EU concerns ranging from an unpredictable Russia to a financially hobbled Turkey and Syria's future.
Asked about Europe's moves, White House Press Secretary Sarah Sanders referred to Trump's "close collaborative relationship" with Macron and Merkel, adding that the president "looks forward to deepening these partnerships as all of our Allies and partners increase their role in addressing global challenges."
"The United States has long encouraged its European Allies to take on a greater share of the joint security burden," Sanders said. "Although we may not agree entirely on how to tackle certain problem sets, we remain strategically aligned in how we view them in the first place -- from Russia to China to Iran."
Europe's deliberations over greater financial autonomy from the U.S. shouldn't be written off, according to Schmieding. "The mere signal that Europe is working on an alternative might be enough to make an impression in Washington," he said.