Euro to Weather the `Perfect Storm' Engulfing It, Say Analysts
(Bloomberg) -- Euro bulls are keeping the faith.
The shared currency is headed for its worst run of weekly losses in more than three years, weighed down partly by speculation that Italy's populist parties may seek a 250-billion euro debt writeoff. While the euro may be in for some more turbulence in the near term, analysts see its bullish trajectory being largely intact on optimism the euro-area economy will pick up momentum, leaving the European Central Bank on course to tighten monetary policy.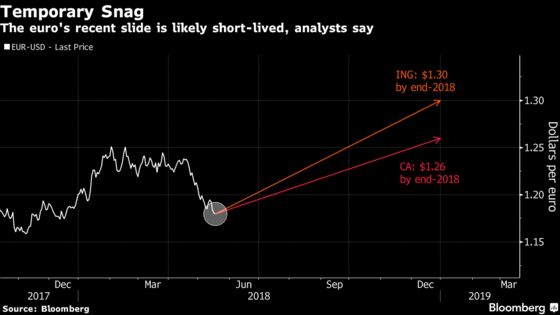 "It feels like a perfect storm has engulfed euro-dollar of late," said Valentin Marinov, head of Group-of-10 currency strategy at Credit Agricole SA. He maintains a "moderately constructive view" over the medium to long term, seeing $1.26 by the end of the year, in line with an unchanged consensus in a Bloomberg survey.
Here's a roundup of analysts' views on the euro:
Weak euro narrative driven by "a double whammy of short-term negative factors -- soft economic data and uptick in political uncertainty," says strategist Viraj Patel
"But with EUR/USD positioning now much cleaner than it was in early April -- we need to see a pure euro-negative story emerge for the currency to move lower," such as a "structural slowdown" in the region or Italy seen as a risk to the future of Europe
Neither are ING's central outcomes and Patel says they "suspect downward momentum will be sapped" as these worries fade
Bank sees correction from this double whammy as being shallow, bottoming around $1.17-$1.18, and it retains $1.30 year-end forecast
The euro's slide is being driven by yield spreads between euro-zone and U.S. bonds

Further widening in the spreads cannot be excluded and "evidence that concerns about Italy and/or the euro-zone economy may delay the upcoming ECB policy normalization," could weigh on euro-dollar, Marinov says
EUR/USD could remain close to lows or even break lower in near term

However, he sees $1.30 by end-2019, as a "period of economic divergence between the U.S. and the euro zone may be temporary"
This will allow ECB to "commence its policy normalization without an undue delay over the summer"
Heightened Italian political risks are further encouraging euro selling, although doubt it will prove sustainable in the near-term, says currency strategist Lee Hardman
"Further down the road it could morph into a bigger problem for the euro but we would be surprised if that happened imminently"
Euro to bottom out in coming months and move toward $1.26 by year-end, he says
"We are happy to stick to that for now although downside risks are increasing given recent developments"
There's a "sense of a market that is not particularly well prepared for a euro decline," writes Simon Derrick, chief currency strategist
View supported by the "benign valuations" still evident in the pricing of six-month and 12-month implied volatility
25-delta risk-reversals for the same periods remain close to the most neutral levels during lifetime of the currency
CFTC positioning data shows euro contracts at "kind of levels last seen when the euro was trading close to $1.45 back in 2011," he says