Euro Bulls Aren't Worried About Contagion From Italy
(Bloomberg) -- Investors who are bullish on the euro needn't lose sleep over Italy yet because any signs of strain are due mainly to political implications rather than the economic impact.
Despite the Italian market turmoil, the country's bonds may still have to fall further for contagion to spread into the foreign-exchange market, according to Deutsche Bank. And unlike during the slump in the nation's securities in May, there has been little re-pricing of the European Central Bank's policy tightening, suggesting that the euro's reaction has little to do with the economics of the Italian budget.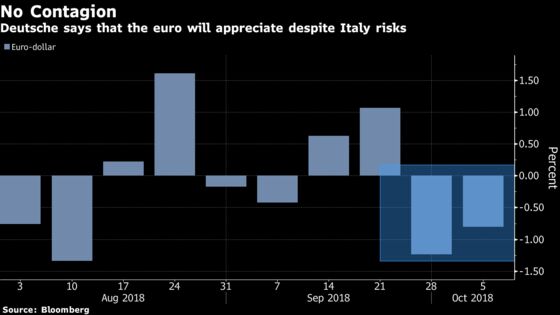 "What matters for the euro is not Italy, but the systemic implications the country has on euro-wide redenomination risk and the monetary-policy stance," Deutsche's co-head of foreign-exchange research George Saravelos said in a client note. "We are convinced that so long as Italian contagion is contained, the euro will struggle to sell off."
The bank -- which backs a resurgence in Europe's common currency -- said that investors should continue to buy the euro against the offshore yuan unless Italy's yield spread over Germany continues to widen. Should the two-year spread blow out above 250 basis points, then investors should close the euro leg of the trade, according to Saravelos. The difference was at 209 basis points Monday.
The euro traded around $1.1477 and at around 7.9500 against the offshore yuan. The 10-year Italy-Germany yield spread rose 20 basis points to 3.04 percent.
JPMorgan Chase & Co. warned that a 10-year spread of 400 basis points, a level not breached since 2012, could be the "pain threshold" for the survival of Italy's fledgling government. Signs of strain have emerged in recent months between the anti-establishment Five Star Movement and right-wing League parties over their diverging political priorities.
"Our base case is still that the government will last at least until the next European election," strategist Marco Protopapa wrote in a note to clients. "However, a more adverse market reaction and/or weaker output and employment growth could trigger a government crisis already at the beginning of 2019."
Deputy Prime Minister Matteo Salvini has rejected European Union criticism of the budget and said voters look beyond the market spread. In a radio interview last week, he said the government won't pedal back on its plans, when asked if the spread at 400 basis point level would change the coalition's policy.