Euro Rebound in Tatters as Politics Flares, This Time in Germany
(Bloomberg) -- The euro's prospects of a rebound all but evaporated after political developments in Germany threatened to ripple through to the rest of the euro zone.
The currency headed for its biggest monthly losses since May after Angela Merkel, a long-standing force of stability in the region, announced Monday she won't seek re-election as party head in December or as German Chancellor in 2021. That took this year's drop to more than 5 percent, confounding analyst expectations for a rally.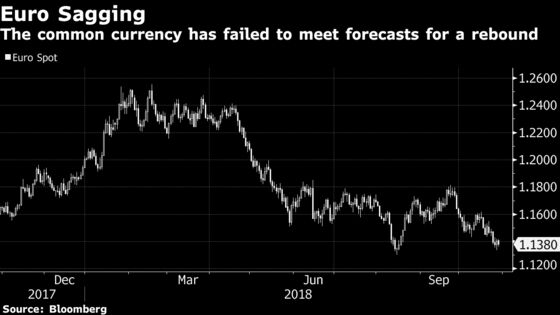 German bund yields surged on speculation Merkel's political decline will open the door to greater government spending. Crossbridge Capital believes that she is unlikely to complete her term as chancellor, and not having a clear successor "will only increase worries" for investors.
Euro Traders Seek Protection From Slide Before ECB December Meet
Merkel's announcement comes at a time when investors were just heaving a sigh of relief after S&P Global Ratings left Italy's sovereign rating intact even as it lowered the outlook on one of the euro-area's most indebted economies. In Merkel, fund managers saw a leader who could tackle such challenging issues as migration and the U.K.'s impending exit from the European Union.
"For the EU and the euro-zone, the only thing worse than a strong Germany is a weak Germany," said Manish Singh, the London-based chief investment officer at Crossbridge Capital. "With the exit of Merkel, the EU would be robbed of the only political leader who appears to have the stature and experience to hold the bloc together as it stumbles from one crisis to the next. The EU could drift untethered and directionless with severe social consequences for the continent."
The euro dropped below $1.14 on Monday, taking its decline for the month to almost 2 percent. The single currency has been battered this year by widening rate differentials between Europe and the U.S. as well as concerns over political risk in Italy. While the median forecast in a Bloomberg survey is for $1.16 this year and $1.25 by end-2019, trader sentiment in the options market remains bearish.
Longer term, the erosion of Merkel's political authority implies that the euro-area's institutional reform is stuck, according to Societe Generale SA.
"While this won't have a significant direct bearing on the euro's near-term direction, it should deflate any expectation of the single currency posing a challenge to the U.S. dollar as the global reserve currency," its strategists wrote Monday after Merkel's announcement.