EU Sees Near Virus Immunity by End-June Amid Astra Doubts
(Bloomberg) -- The European Commission has told governments the Covid vaccine rollout could hit a key target earlier than expected, under new projections that hinge on people accepting AstraZeneca Plc's shot.
The European Union's executive arm says most member states will have sufficient vaccine supplies to immunize the majority of people by the end of June, according to a memo circulated to national delegations in Brussels and seen by Bloomberg. The forecast assumes some 70 million inoculations with Astra's vaccine this quarter, but that goal could be at risk if regulators put restrictions on the dose.
The European Medicines Agency may indicate a potential link between the drugmaker's shot and rare cases of blood clots, Messaggero daily reported on Tuesday, quoting Marco Cavalieri, EMA's chair of the vaccine evaluation team. The U.K.'s medicines regulator is also being urged to change its guidance on the use of the vaccine in younger people, Channel 4 News reported.
The EU's drug regulator said Tuesday that its Pharmacovigilance Risk Assessment Committee is still studying reports on possible side effects and expects to finish the review by Thursday. EU health chief Stella Kyriakides said the assessment will be concluded "late Wednesday."
Reports of side effects from the Astra dose already led to its temporary suspension in some EU countries last month. While usage has resumed, some governments are restricting it to certain age groups.
Vaccination centers in France said several people eligible to be inoculated were reluctant to take an Astra shot, going so far as to cancel their appointments. The latest setback with Astra's vaccines may further prolong lockdowns, with countries across the continent struggling to contain a third wave of infections.
Still, the latest EU projections seen by Bloomberg indicate growing confidence in Brussels that the vaccination campaign will improve after a disastrous start dominated by delays, mixed messages and political fighting
Germany, France, Italy, Spain and the Netherlands will be in a position to fully inoculate more than 55% of their total populations, according to the EU memo dated April 1. The EU had previously said it wants to immunize 70% of adults by the end of the summer, which -- depending on the demographics of each member state -- corresponds to around 55-60% of total population.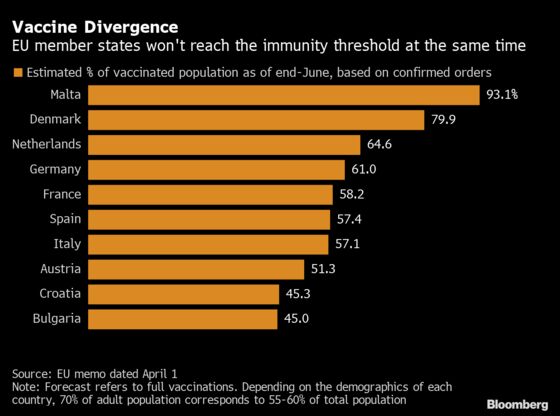 The commission expects deliveries of vaccines to increase to about 360 million doses this quarter from just over 100 million in the first three months of the year. The expected supply surge will be welcomed by countries struggling to contain the latest wave of the pandemic.
In Germany, the leader of Chancellor Angela Merkel's party reinforced his call for strict, short-term curbs to contain the country's resurgent outbreak. A hard two- to three-week shutdown is needed to get Germany's incidence rate under control, Armin Laschet said Tuesday.
The EU forecast document details the exact number doses that will be available to each government by the end of June. While the overall picture is positive, some member states, including Austria, Croatia and the Czech Republic, are projected to lag behind. Others, such as Denmark and Malta, will reach the immunity threshold much earlier.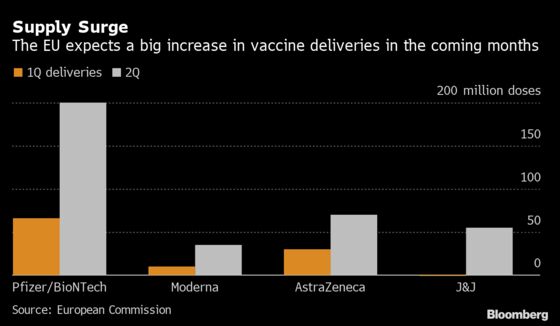 The estimates seen by Bloomberg factor in an agreement last week to redistribute part of an accelerated batch of deliveries to countries where supplies are scarce.
The laggards did not draw the full allocation of the coronavirus vaccines they were entitled to under the EU's purchase agreements with BioNTech SE and Pfizer Inc., as well as Moderna Inc., opting instead to focus on Astra's cheaper shot. With Astra deliveries behind schedule, these member states may face delays in reopening their economies, even after taking into account the mechanism agreed to help them catch up.
EU Commissioner Thierry Breton, who's leading efforts to ramp up production, has said the bloc will have the capacity to deliver enough doses to reach collective immunity by July 14, provided the doses are injected. The date is symbolic, to coincide with Bastille Day in France.