EU Warns U.K. There's No Alternative to Northern Ireland Deal
European Union leaders dismissed British demands to amend the terms of the Brexit withdrawal agreement, setting the stage for further tension over the special status of Northern Ireland.
"There is no alternative to the full and correct implementation of the Northern Ireland protocol," European Commission President Ursula von der Leyen told reporters in Brussels following a summit of EU leaders on Monday. "If we see problems today, we should not forget that they do not come from the protocol, they come from Brexit."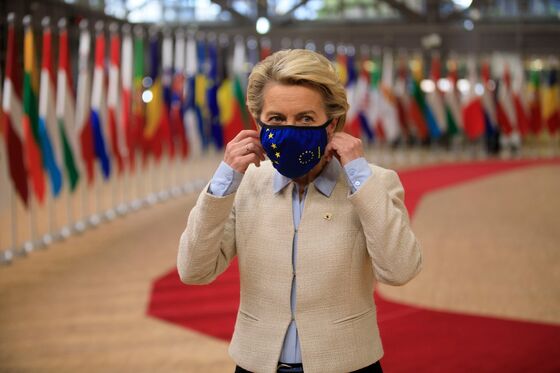 The terms for the U.K.'s departure from the EU have Northern Ireland effectivel still anchored to the bloc's single market. While the aim of the arrangement is to preserve a single economic area in the island of Ireland and prevent a fragmentation that could endanger the peace agreement, it has also erected trade barriers between the region and the rest of the U.K.
London has complained the EU is enforcing checks on goods moving from Britain to Northern Ireland too strictly, perpetuating risks to supply chains. The region saw the worst violence in years in April, in part fueled by unionist discontent around the Brexit agreement.
But the EU refuses to back down, arguing that unless if checks are enforced between Britain and Northern Ireland, then goods can enter the bloc's single market without abiding by the bloc's standards.
"Relations with the U.K. should remain mutually beneficial and can under no circumstances undermine the integrity of the Single Market, the Customs Union or the EU's decision-making autonomy," leaders said in a joint statement on Monday.