EU Tells Balkan Aspirants to Keep Trying Despite Revised Rules
(Bloomberg) -- The European Union urged Balkan countries that are trying to win membership to stay on track even as the bloc reconfigures the conditions they must meet before joining.
The visit by EU Enlargement Commissioner Oliver Varhelyi comes days after EU government envoys in Brussels presented an overhaul of expansion rules that adds a focus on the rule of law and functioning democratic institutions. The new requirements were drawn up to appease French President Emmanuel Macron, who torpedoed starting talks with Albania and North Macedonia last year.
Varhelyi pledged support to bring the applicants' economies up to speed and make them more resilient before possible accession.
"My goal is that by the end of my mandate, in the next four and a half years, at least one country from the Western Balkans should be ready to join," he told reporters after meeting President Aleksandar Vucic in Belgrade.
The Serbian leader welcomed the new enlargement plan, saying it may bring more predictability to the process. Vucic also urged the European Commission to include the biggest former Yugoslav republic in the Schengen area, to open up borders and foster the free flow of goods and services in the western Balkans.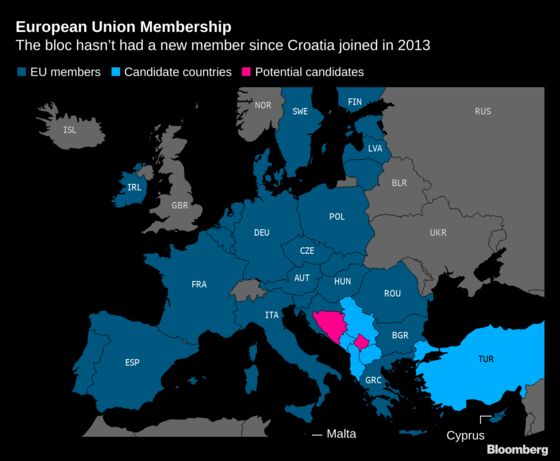 Macron's veto, and insistence that the EU change the way it brings in new members before any are allowed to join, has roiled politics in the six Balkan countries seeking to join the world's biggest trading bloc.
A tentative time-frame to let them in around 2025, offered in 2018 by former European Commission chief Jean-Claude Juncker, appears now less realistic.
The countries themselves have work to do too. Serbia and Kosovo must resolve the dispute stemming from their 1998-99 war to be considered for membership.
"For the entire region, the relationship between Serbia and Kosovo is a key issue, Varhelyi said, urging wartime foes to "come to a long-term peaceful solution."
The EU's motivation is also clear, as it struggles to continue coaxing countries to embrace democratic and economic reforms in a volatile region where the U.S., Russia and China are also vying for influence.
"We would like to be more credible here," Varhelyi said. "Geopolitics starts in our neighborhood, starts in the heart of Europe, in the Balkans."