EU Targets Super-Charged Crisis Budget With Coronabonds Blocked
(Bloomberg) -- The heads of the European Union's main institutions said the bloc must increase its budget firepower to repair its devastated economy as they seek a way around the gridlock over joint bond issuance.
An expanded budget should be "the mothership" of efforts to revive growth after the coronavirus pandemic, European Commission president Ursula von der Leyen told EU lawmakers in Brussels on Thursday. The bloc's leaders will have a "strategic discussion" about the spending plan during a conference call next week, said European Council President, Charles Michel, who leads their meetings.
The budget is a cornerstone of EU policy which allows farmers to compete against cheap imports from the developing world, helps poorer states catch up with the rich ones and underpins projects that bind the union together, from infrastructure to academic research. It's normally set at around 1 trillion euros ($1.1 trillion) spread across 27 countries over seven years, but that's a fraction of the funding that will be required to rebuild the economy after Covid-19.
Officials in Brussels are looking to increase the budget, frontload spending and supplement contributions with borrowing after more radical proposal for joint debt issuance ran into resistance from countries like the Netherlands and Germany.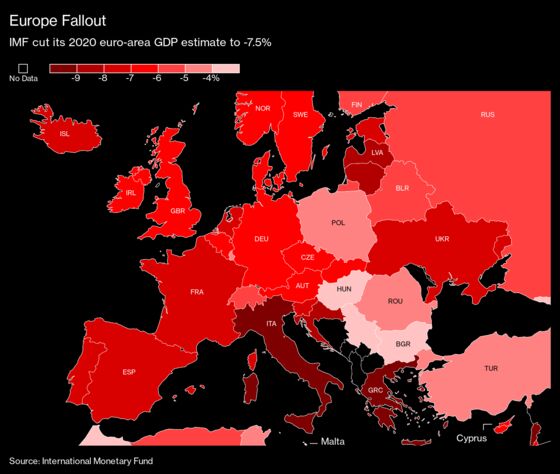 EU members contribute to the budget on the basis of their size and economic strength making it the only significant form of direct fiscal transfer from richer countries to poorer ones. It is the only instrument "that is trusted by all member states, which is already in place and can deliver quickly," von der Leyen said Thursday. "It is transparent and it is time tested as an instrument for cohesion, convergence and investment."
Using the bloc's common budget may be more palatable for the rich north, but it's unclear whether it would satisfy Italy and the other southern countries that have been hardest hit by the virus.
The debate over how to finance the economic recovery comes as governments are starting to sketch out how much longer the social distancing measures to prevent infections will remain in force. German Chancellor Angela Merkel said on Wednesday that no large events such as soccer matches, concerts and festivals will be allowed before the end of August at the earliest, while the commission warned that any easing of confinement rules will "unavoidably" lead to a spike in new cases, and restrictions may have to be re-imposed until a vaccine is found.
European governments have already committed 3 trillion euros to cushion the blow from the pandemic, and "a lot more" will be needed, von der Leyen said Thursday. With highly indebted economies like Italy's set to nosedive this year, investors have raised doubts about their ability to foot the bill without backing from their richer peers.
Despite massive European Central Bank purchases, Italian 10-year notes were trading at 1.73% on Thursday, double the yield demanded by investors in mid-February. While borrowing costs remain far below the levels seen during the sovereign debt crisis eight years ago, sentiment could change quickly if EU leaders are seen to be failing to come up with a convincing response.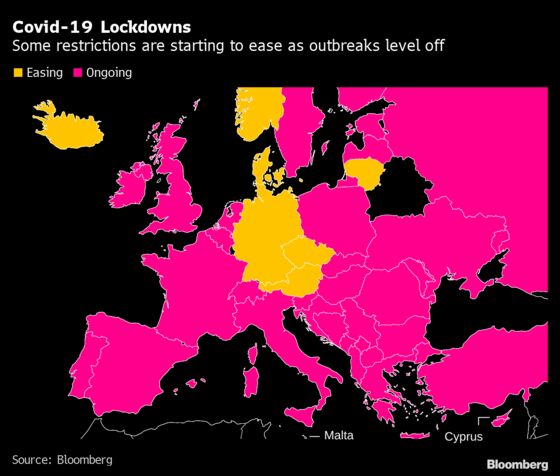 The bloc's finance ministers will discuss a package of proposals including a 100 billion-euro employment insurance fund and credit lines of up to 240 billion euro's from the euro-area bailout fund later on Thursday. The contentious subject of joint debt issuance could also come up in the video conference, but officials have said they expect to see no more fighting over the issue at least until leaders meet virtually on April 23.
Polls showing a steep rise in euroskepticism have put pressure on Italian premier Giuseppe Conte to extract concessions from northern European countries next week. But even an agreement on upgrading the budget will be a tall order -- governments spent much of February fighting over a spending increase worth less than 0.1% of their collective GDP.
Two EU officials in Brussels said the bloc's institutions will be waiting for guidance from leaders before unveiling an updated budget proposal in the following weeks. The size of the proposal will depend on the magnitude of the economic slump, one of the officials said.