EU Targets Key Commodities in Push to Prevent Deforestation
(Bloomberg) -- The European Union unveiled new rules for companies selling six major commodities in a bid to curb global deforestation.
The European Commission, the 27-nation bloc's executive arm, wants the regulation to cover soy, beef, palm oil, wood, cocoa and coffee, as well as some derived products such as chocolate, leather and furniture. The plan will require backing from member states and the European Parliament to enter into force.
"It's about our responsibility as one of the largest economies, which unfortunately drives deforestation and forest degradation in other regions," EU Environment Commissioner Virginijus Sinkevicius said in an interview. "With this proposal we're sending a very clear message that we're leading the way in addressing this issue."
The bloc also unveiled measures to make it easier to ship waste between member states in a bid to boost recycling, while curbing exports to non-EU countries. About 15% to 30% of waste shipments may currently be illegal, equivalent to around 9.5 billion euros ($10.7 billion) each year. Separately, the commission wants to address soil health within the region and will propose legislation by 2023.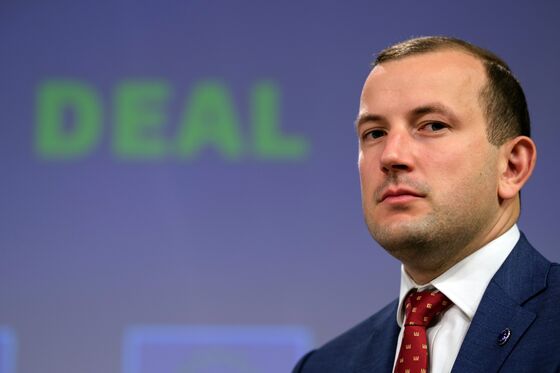 The EU seeks to be the world's leader in the fight against climate change. The deforestation proposal will help preserve biodiversity and cut annual carbon emissions by at least 31.9 million tons, according to commission estimates. That would translate into economic savings of at least 3.2 billion euros a year.
Under the proposed law, operators would have to collect the geographic coordinates of where the commodities originated and competent authorities in member states will ensure that only deforestation-free products enter the EU market. The rules will prohibit the placement of commodities and products produced on land deforested or degraded after Dec. 31, 2020, or in breach of the country of production's laws.
The rules will be the same for all companies, both from the EU and third countries, who want to sell their products to Europe, according to Sinkevicius. 
"We received a lot of support from companies," he said. "Some are already doing that and they're happy that we're finally going to apply the regulation to all and that there's not going to be any greenwashing or fooling the consumer."
There will be a benchmarking system run by the commission to classify countries according to their level of risk for deforestation and that information will be used to determine the obligations on companies and member states. For example, due diligence will be simplified for goods from lower-risk areas, while more stringent demands will be placed on products coming from higher-risk ones.
Companies and member states will have about a year from the adoption of the rules to fully prepare, according to Sinkevicius. The commission plans to routinely update the regulations, potentially adding new products as scientific data becomes available and deforestation patterns change.
"This is already a very ambitious, ground-breaking proposal, which hasn't been proposed anywhere in the world," Sinkevicius said.