EU Summit a Sideshow for Pound as Parliament Hurdle Lies Ahead
(Bloomberg) -- The U.K. might move a step closer to a Brexit divorce deal this weekend, but pound traders are gearing up for a volatile end to the year.
U.K. Prime Minister Theresa May is headed to Brussels on Saturday ahead of an EU Summit Sunday, where her divorce agreement is slated to be signed off by the bloc's leaders. Markets have already priced in approval, so a shock rejection would drive the pound down 2 percent to $1.2550, said Neil Jones, head of hedge fund currency sales at Mizuho Bank Ltd.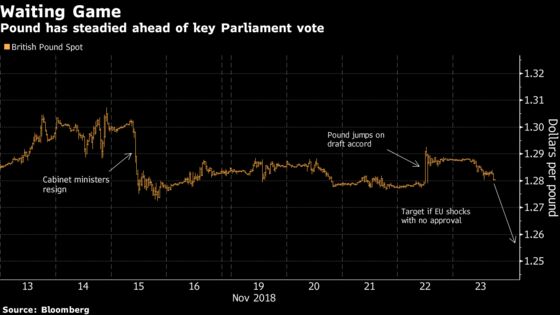 Investors are more focused on May's next challenge of getting Parliament to sign off on the divorce in December. With opposition to both the withdrawal deal and an agreement on aims for the future from her own party as well as opposition lawmakers, sterling has failed to make much headway this month.
"Positioning for the Parliament vote is the only show in town for the pound," said Kenneth Broux, strategist at Societe General SA. "The rest is a sideshow."
Approval from lawmakers by the end of the year could see the pound rally above $1.35, whereas rejection would mean a slide toward $1.20, strategists have said. An options gauge of swings in the currency over one month is holding near a two-year high.
The pound has mostly stayed between $1.28 and $1.29 this week, briefly jumping higher on Thursday after May agreed an outline on future cooperation with the EU. That did little to lift the mood in the House of Commons, however, as prominent Brexiteers in her Conservative party lined up to oppose it.
She will need to get most of them on board, as well as entice some rebels from the opposition, to reach the votes needed. Around 80 Conservative Party lawmakers either oppose the agreement or won't vote in favor, said Tory MP Greg Hands in a radio interview. With the Northern Irish DUP party also unhappy and opposition Labour planning to vote against it, the arithmetic looks tough.
"The fact that the pound has not rallied significantly yet suggests that the market is already anticipating a parliamentary defeat," said Lee Hardman, a currency strategist at MUFG. "The pound will likely weaken further if the Brexit deal is voted down."