EU Fails to Find United Response to AstraZeneca Vaccine Risk
(Bloomberg) -- The European Union failed to form a united response to links between AstraZeneca Plc's Covid-19 vaccine and a rare type of blood clotting, missing an opportunity to inject momentum into the bloc's sluggish inoculation program.
At a meeting that ran until late Wednesday, EU health ministers promised to continue discussions on vaccination planning and process. Health Commissioner Stella Kyriakides had called on the bloc's governments to forge a coordinated strategy, saying it "will be key for us to speak with one voice." The EU needs "an approach which does not confuse citizens and that does not fuel vaccine hesitancy," she said.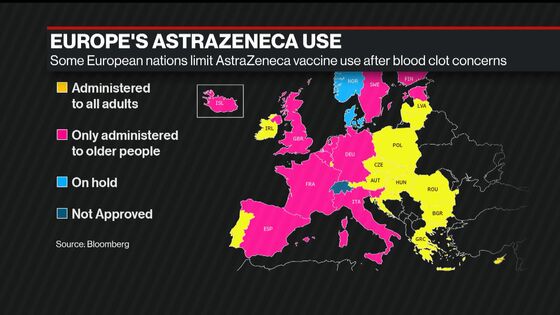 In a statement afterward, the EU said ministers had shared "different interpretations" of a safety report on the AstraZeneca shot by the bloc's drugs regulator, indicating what may be deep divisions on the way forward. Despite the risks, the EU regulator -- and its British counterpart -- on Wednesday insisted the product's benefits outweigh its risks, that the clot occurrences are rare and that the shot should remain a vital tool in the pandemic fight.
In response to the safety concerns, Italy followed Germany and France by recommending it only for people over 60. Prime Minister Mario Draghi's government urged other EU members to implement the same policy, according to people familiar with the matter who asked not to be identified.
This week Spain will also recommend limiting the Astra vaccine to those over 60, Health Minister Carolina Darias said late Wednesday.
The moves to limit the vaccine's use came just hours after the European Medicines Agency announced finding a "strong association" with blood clots. The regulator didn't issue any guidelines about usage, leaving the implementation up to member states.
Thomas Mertens, the head of Germany's vaccine commission, said that while the EMA bases its decisions on what it believes is best for the whole EU, Germany can afford to be more careful as it is not so dependent on the AstraZeneca shot for its inoculation drive.
"We can therefore greatly reduce or even eradicate the risk of these serious side-effects in certain age groups," Mertens said Thursday in an interview with ZDF television. "I think you can justify both approaches very well."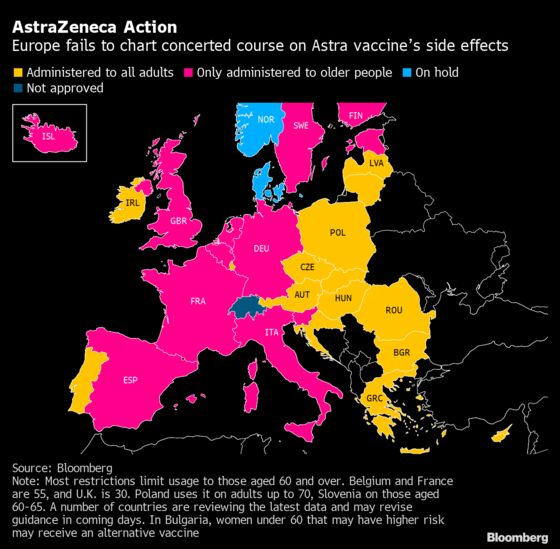 The EU has been hit by a fresh wave of the coronavirus, which has caused more than 600,000 deaths in the region. Italy and France have gone back into lockdown. Germany is debating stricter curbs, while Chancellor Angela Merkel considers taking control from state leaders.
The continent's immunization program has been bogged down by poor planning, supply delays and increasingly a lack of solidarity. Greek Health Minister Vasilis Kikilias expressed concern about the pluralism that confuses citizens on such an important issue.
With aggressive variants spreading, the region can ill afford further problems. The EU has administered doses for just 9.5% of its population -- about a third of Britain's pace, according to Bloomberg's Coronavirus Tracker.
The U.K. conducted a similar safety review of the AstraZeneca vaccine and is now advising that people under 30 be offered an alternative if one is available, the country's Medicines and Healthcare Products Regulatory Agency said Wednesday.
The warnings dealt another blow to the vaccine Astra developed with the University of Oxford and continued to cloud its global rollout. The drugmaker said it's studying the individual cases to understand the "epidemiology and possible mechanisms that could explain these extremely rare events." It's also working with regulators on their request for new labels on its shots, AstraZeneca said in a statement.
Concerns about the vaccine center on an unusual type of blood clot in the brain called cerebral venous sinus thrombosis. There were also some cases of clots in the abdomen and in the arteries, which occurred together with low levels of blood platelets.
Italian officials said the change of policy wouldn't hamper the country's rollout as supplies increase and doses of other shots get redistributed.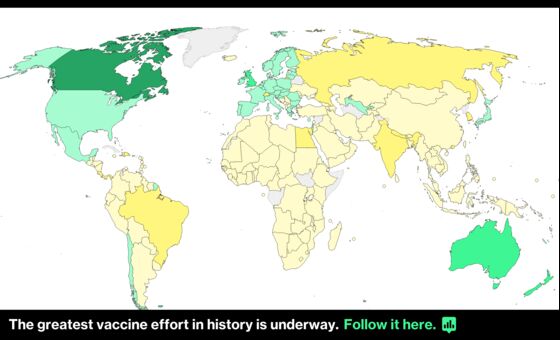 AstraZeneca's vaccine has been dogged by controversy. Before the health concerns, the drugmaker got embroiled in a battle with the EU after a production issue led to delivery delays.
Unity among member states has become a broader issue.
"We must not forget that individual decisions affect everybody," Portuguese Health Minister Marta Temido said, appealing for a coordinated position. "This is a technical decision. It is not a political decision. We must continue to follow the best scientific information provided."