Court Orders Johnson to Set Out Plan If He Loses: Brexit Update
(Bloomberg) -- Boris Johnson's lawyer promised the Supreme Court the government will file a statement overnight on what it will do if it loses the landmark case over its suspension of Parliament. The second of three days of hearings has finished in the landmark case, which has the potential to derail Johnson's Brexit strategy and even curtail his premiership.
Day 2 of court hearings has concluded; third and final day is Thursday, but the Supreme Court hasn't given a date for a ruling
Government lawyer James Eadie promised written statement on Johnson's plans if he loses, after the court warned it would be "entirely inconvenient" if it wasn't provided before the hearings end
Pound drops as much as 0.5% after European Commission President Jean-Claude Juncker said the risk of a no-deal Brexit is "palpable"
German Chancellor Angela Merkel hasn't given up a Brexit deal
Morgan says government will heed Supreme Court Verdict
Minister Says Government Will Heed Supreme Court (9 p.m.)
Culture Secretary Nicky Morgan said the government will heed the verdict meted out by the Supreme Court after its third day of hearings Thursday.
"The government is clear: we comply with the law, we respect the independence of the judiciary," Morgan said in an interview on ITV's "Peston" show. "What they do say will be followed by the government."
After saying at the weekend that she'd vote "remain" if there were a second referendum on EU membership, Morgan stressed on ITV that she wasn't calling for such a vote, because she believes the result of the 2016 plebiscite should be respected.
"I do not think that we should have a second vote on this," Morgan said. "We had a clear vote in 2016. It wasn't a position obviously that I had campaigned for, but I fully accept that we should now carry out that vote, and I think that Boris is completely right to set the 31st October, accept that as the deadline, not to be entertaining any extensions."
Foster Says DUP Prepared to be 'Flexible' (8:15 p.m.)
Democratic Unionist Party Leader Arlene Foster said her party -- which three times voted down Theresa May's Brexit deal -- is prepared to be flexible and countenance solutions to the Brexit impasse that apply only to Northern Ireland -- so long as there is an element of local consent.
"We are prepared to be flexible and look at Northern Ireland specific solutions achieved with the support and consent of the representatives of the people of Northern Ireland," Foster said in a speech in Dublin, according to extracts emailed by her office. "We want to have prosperous trading relationships across the island and allow businesses to get back to investing in the future with confidence."
Foster said she wants Britain to leave the EU with a deal, and that a no-deal Brexit "is no-one's preferred outcome and is not of itself a final destination." But she also warned that no deal will be reached that involves a backstop -- whether U.K.-wide or Northern Ireland-specific. The EU so far has refused to countenance removing the backstop -- a fallback position that will apply if future trade terms can't be agreed -- from the deal.
Day 2 Ends With Appeal to Judges' 'Better Nature' (4:30 p.m.)
The second day of arguments in the Supreme Court case looking at whether Boris Johnson's decision to suspend Parliament was lawful has ended.
Aiden O'Neill, representing Scottish lawmakers, urged the judges to "listen to the angels of your better nature" and rule Johnson's suspension unlawful. He challenged the court to stand up for the U.K. constitution and the union between England, Northern Ireland, Scotland and Wales.
The third and final day of hearings is on Thursday, and judges have firmly asked the government to outline what it intends to do if it loses the case. The court will hear from leading Northern Irish and Welsh lawyers, as well as representatives of former Prime Minister John Major. There is still no indication when the judges will reach a decision.
Testimony Veers to Shakespeare, Scottish Battles (3:20 p.m.)
Aiden O'Neill, representing almost 80 Scottish lawmakers who won the case against the government in Edinburgh, opened with a rhetorical flourish, invoking "Macbeth" and taking the judges through ancient Scottish battles and fictional ones before laying out the importance of the symbolism of the union of the U.K. in the case.
When he finally got to the crux of his argument, he said there is clear case law showing the top court can rule in this suit, and that the decision to suspend Parliament fundamentally changed the balance of the constitution because it allows Prime Minister Boris Johnson to alter the U.K.'s relationship with Europe without parliamentary scrutiny.
"That cannot be at this time, in this manner, a lawful use of the power," he said.
The approach was unusual, and there was a sense he was talking to an audience beyond the court. But as lawyer and legal blogger Adam Wagner pointed out, the fact that the arguments had been made by Gina Miller's lawyers on Tuesday meant O'Neill had some freedom to go "a bit off grid."
Merkel Still Holding Out for a Deal (2:45 p.m.)
Asked about the fallout from Boris Johnson's visit to Luxembourg on Monday, when he skipped a planned press conference and the European Union complained about the lack of U.K. proposals in the prime minister's talks with European Commission President Jean-Claude Juncker, German Chancellor Angela Merkel said she's still holding out for a negotiated Brexit.
"I'll say again now just as I said during Boris Johnson's visit, that I continue to see the possibility of an orderly exit," Merkel told reporters in Berlin. "This was also the goal of the meeting with Jean-Claude Juncker. I didn't expect that the visit in Luxembourg would offer a solution."
Merkel, who spoke with Johnson by phone Tuesday and plans to continue the conversation next week on the sidelines of the United Nations General Assembly in New York, said she'll otherwise "wait to see how things develop."
"We are prepared for a disorderly exit, but I prefer an orderly exit with an agreement," Merkel said.
Coveney Warns Against Criticizing Johnson (2 p.m.)
Criticizing Boris Johnson in public will not help to get a Brexit deal, Irish Foreign Minister Simon Coveney warned, days after Luxembourg leader Xavier Bettel did just that.
Ireland and the EU are "in the business of trying to understand what are the limits of what Boris Johnson can offer" and whether the terms are "good enough to allow us to strike a deal," Coveney said during a visit to Carlow, south east Ireland.
Separately, Irish Prime Minister Leo Varadkar told lawmakers in Dublin he may meet Johnson when they are both in New York for the United Nations General Assembly next week. He said he's also arranging to meet Arlene Foster, leader of Northern Ireland's Democratic Unionist Party, "very soon."
Court Demands Johnson's Plan If Defeated (1:30 p.m.)
Just before finishing, Eadie turned to the question of what the court could order and how the government might respond if the ruling goes against it. It was an issue that concerned the judges on the first day of the hearing, with one asking if Boris Johnson might prorogue Parliament for a second time.
The government must provide the court with its plan in the event of defeat and "it will be entirely inappropriate if you don't do it by the end of tomorrow," Judge Brenda Hale, the president of the court, said.
Eadie responded that the government will work on its reply overnight as Judge Robert Reed spoke up to note that the issue could be a "very difficult question" for the judges.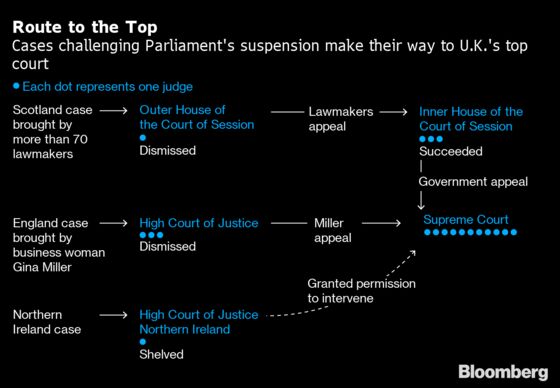 Judge Questions Lack of Government Witness (1:20 p.m.)
Judge Nicholas Wilson asked James Eadie why no senior government official had come forward with a witness statement to back up the cabinet minutes outlining the reasons for the suspension of Parliament. Had that been done, the government's evidence would have more weight in the court's eyes.
"No one has come forward from your side to say that this is true," Wilson said. "Isn't it odd that nobody has signed a witness statement saying this is true?"
Eadie countered: "My Lords, you have the witness statement you have," referring to the document from a government lawyer. It would be unusual for a senior official to be called to give evidence in a case like this, Eadie said, and any application for that to happen would "be resisted like fury."
Denmark Ramps-Up No-Deal Preparations (12:35 p.m.)
Denmark is ramping up preparations for a no-deal Brexit amid concerns at Boris Johnson's strategy and estimates that divorce without an agreement could cost the Nordic nation as much as 1.3% in lost growth over the next 5-10 years.
"The new British government's approach is worrying," Danish Foreign Minister Jeppe Kofod told reporters in Copenhagen as he announced the creation of an emergency task force of officials from eight ministries.
The Foreign Ministry estimates that around 60,000 Danish jobs, or 2% of the labor force, relies on exports to the U.K.. Tax authorities have hired 50 new staff and the government will spend 10 million kroner ($1.5 million) on a new public awareness campaign.
Judges Question 'Post Hoc' System of Control (12:20 p.m.)
Two judges challenged government lawyer James Eadie's suggestion that Parliament could address any harm stemming from its suspension after it is recalled. Justice Brian Kerr called it a "post-hoc system of control," and Justice Jill Black also questioned the idea.
But Eadie said that Parliament "can resume all the functions of control it had beforehand." Eadie effectively argued that the 17 days between Parliament is due to be recalled for a Queen's speech and the Oct. 31 Brexit deadline would be enough to address any issues.
"There is time, and it's up to Parliament and the government to legislate what they consider necessary," he said.
Barnier: U.K. Must Provide 'Robust' Solutions (11:40 a.m.)
Michel Barnier, the EU's chief Brexit negotiator, said the U.K. government must accept the need for "legally robust solutions" in any withdrawal accord, and said the two sides shouldn't be wasting time "pretending to negotiate."
"We are building a treaty, we're not making a speech" Barnier told the EU Parliament in Strasbourg. "It's finding solutions that work, and that's something that we've communicated to Boris Johnson and his team."
Barnier's comments echo those of European Commission President Jean-Claude Juncker (see 8:40 a.m.), who demanded the U.K. provide its proposals for an alternative solution to the contentious backstop -- the fallback measure designed to keep the Irish border free of checks after Brexit -- as soon as possible. A British official said Tuesday the government is still sounding out the bloc on its ideas for the border before submitting written proposals.
Tytti Tuppurainen, European affairs minister of Finland -- which currently holds the EU's rotating presidency -- said in the same debate that achieving the U.K.'s orderly withdrawal must remain the bloc's priority "until the very last moment, given the negative consequences of a hard Brexit."
German Businesses Toughen No-Deal Tone (11:30 a.m.)
The influential German BDI industry lobby group said it would rather have a hard Brexit on Oct. 31 than accept another delay that leads nowhere, even if -- as the group expects -- it trims economic growth by 0.5 percentage points and leads to the loss of nearly 100,000 jobs.
"With every delay, the cost of preparations increase," Director General Joachim Lang said Wednesday at a press briefing in Berlin. He accused Boris Johnson's government of "playing with fire," and said it shouldn't be given an extension without a plan in place to avoid a no-deal split with the EU.
Despite the tougher tone, the BDI, which estimates German companies have spent billions of euros on preparations, said it still sees a no-deal Brexit as the "worst of all possible outcomes."
Who Better Than Court to Protect Parliament? (11:15 a.m.)
Justice Nicholas Wilson asked government lawyer James Eadie who was "better placed to protect the principle of parliamentary sovereignty" than the Supreme Court.
Eadie replied: "It's no good simply turning up and shouting about parliamentary sovereignty, because parliamentary sovereignty can mean a number of things."
The exchange goes to the heart of the case, which is trying to determine whether the government's five-week suspension of Parliament was unlawful.
'Treasury Devil' to Open Day 2 for Government (10:15 a.m.)
James Eadie, the government's go-to lawyer in major pieces of litigation -- a role known as the "Treasury Devil" -- is due to kick off the second day of hearings at the Supreme Court. Aidan O'Neill then presents on behalf of 80 Scottish lawmakers, who secured the ruling in Edinburgh that the government's suspension of Parliament was unlawful.
The government's main contention is the issue has no place being decided by judges, and that Johnson has acted within his powers. The decision to prorogue Parliament was one of "high policy and politics, and not law," they argue.
"The appeals would also involve the courts identifying and enforcing a new constitutional convention as to the length of prorogation, which the courts have no jurisdiction to do," lawyers led by Eadie said in their written arguments.
Both the Scottish and English challengers -- who lost their separate case in the High Court in London -- argue the issue falls squarely in the jurisdiction of the court to deal with and that Johnson abused his executive powers.
"It is not, and cannot be, right that the executive can exercise its powers so as to remove itself from accountability to Parliament in relation to decisions of high constitutional -- and potentially irreversible legal, economic and social -- impact," lawyers for Joanna Cherry in the Scottish case said.
Sturgeon Doubts Johnson's Brexit Ideas (9:30 a.m.)
Scotland's First Minister Nicola Sturgeon cast doubt on Boris Johnson's proposal to replace the so-called Irish backstop, and said the prospects of a Brexit deal "have to be slim."
"We will have to see what unfolds over the next few weeks, but it's a very limited form of Northern Ireland-only backstop he appears to be talking about," Sturgeon told reporters in Berlin, where she is due to meet German officials. "It's very difficult to see how Boris Johnson can secure a deal that satisfies the European Union and commands a majority" in Parliament.
On the Supreme Court hearings in London, Sturgeon said that a ruling for the government would effectively mean a "government can suspend Parliament at any time it wants." Conversely, a loss for Johnson would mean he "will have been found to have acted unlawfully" and would have to consider his position.
Speaking at the German Council on Foreign Relations on the fifth anniversary of the Scottish independence referendum, Sturgeon predicted that "over the next few years," Scotland will become an independent member of the EU. "We are living in extraordinary and unprecedented times in the U.K," she said.
Juncker: Sticking Point Is Still the Backstop (8:40 a.m.)
In his briefing to the European Parliament in Strasbourg, France, on Monday's talks with Boris Johnson, European Commission President Jean-Claude Juncker said the main sticking point remains -- as it has for months -- the so-called backstop provision for the Irish border. He demanded the U.K. provide its proposals for an alternative solution in written form as soon as possible.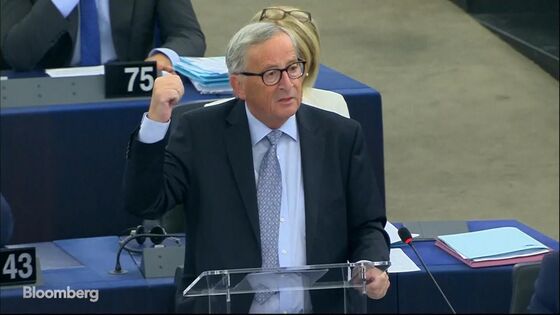 Juncker said that while the discussions with Johnson in Luxembourg were "friendly, constructive and, in part, positive," the risk of the U.K. leaving the bloc without an agreement at the end of October is "palpable." The pound fell 0.3% after Juncker's comments.
A British official said on Tuesday the government is sounding out the bloc on its ideas for the Irish border before submitting its plans in written form.
Carney Could Be Asked to Extend Term on Brexit: FT (Earlier)
Bank of England Governor Mark Carney could be asked to extend his term past Jan. 31 if Brexit is delayed again, the Financial Times reported, citing people familiar with the matter it didn't identify.
The newspaper cited a government official as saying the process of choosing Carney's successor is going "very slowly," while an expected election in the fall makes it likely that a decision would not be made until a new government was in place.
Responding to the report, the Treasury said "the process is on track and we will make an appointment in due course."