EU Says It Won't Engage in 'Finger-Pointing' in Genoa Disaster
(Bloomberg) -- The European Union pushed back against suggestions by Italian politicians that EU budget rules may endanger lives after the collapse of a decades-old bridge in northern Italy killed at least 39 people.
"We will not engage in any political finger pointing," the European Commission, the EU's executive in Brussels, said in a statement after Italian Deputy Premier Matteo Salvini said the failure of the highway bridge in Genoa demonstrated the importance of increasing investments and hinted that EU spending limits could put lives at risk.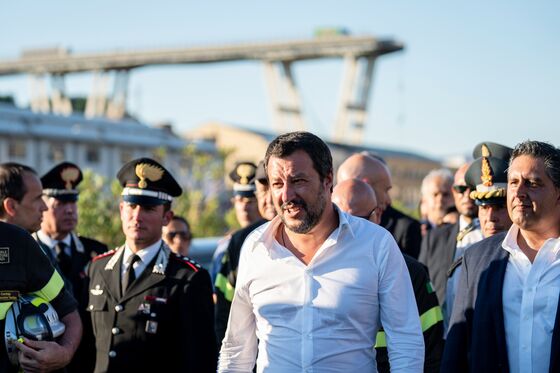 "If external constraints prevent us from spending to have safe roads and schools, then it really calls into question whether it makes sense to follow these rules," Salvini, who leads the euroskeptic League party, told reporters Tuesday in Catania, Sicily. "There can be no trade-off between fiscal rules and the safety of Italians."
The commission in Brussels said Italy is receiving billions of euros under the bloc's multi-annual budget for infrastructure investment and is "one of the main beneficiaries of the flexibility" under the 28-nation bloc's fiscal rules.
"Over the 2014-2020 period, Italy is set to receive around 2.5 billion euros ($2.8 billion) under European Structural and Investment Funds for investments in network infrastructures, such as roads or rail," the commission said in the statement. "In April 2018, the commission also approved under EU state-aid rules an investment plan for Italian motorways, which will enable around 8.5 billion euros of investments to go ahead, including in the Genoa region."
Italy's populist coalition is in the process of preparing its 2019 budget, with Salvini and his ally, Luigi Di Maio of the Five Star Movement, already demanding the EU bend its rules on spending targets to allow Italy to boost outlays and cut taxes. Previous Italian governments have long pressed for certain types of investment to be excluded from EU calculations.
The EU commission said that under the the EU's budget rules governments of member states are free to set spending priorities, including for development and maintenance of infrastructure.
"The EU has encouraged investment in infrastructure in Italy," it said. The latest country-specific recommendations approved by the EU governments called on Italy "to better target investments to foster infrastructural development," the commission said.