EU's Vestager Defends Dual Role as Antitrust and Tech Chief
(Bloomberg) -- Margrethe Vestager, the European Union's incoming technology chief, defended her dual role as a rulemaker and enforcer of antitrust law, saying her investigations face intense scrutiny and can aid new regulation.
Vestager faced some criticism from the European Parliament's biggest party, which argued that it's not possible to "strengthen antitrust efforts and fine tech giants and, at the same time, count on Google or Apple's cooperation for a digital industrial strategy." The negative comments didn't stop her from winning lawmakers' backing for her new job.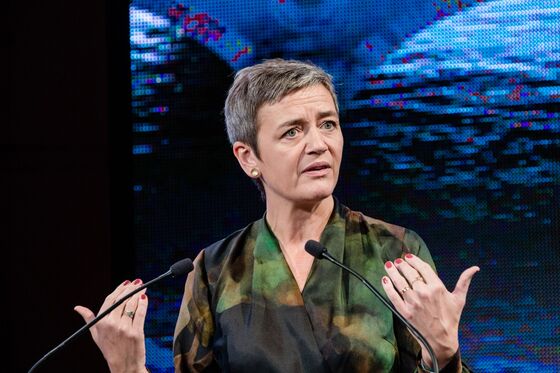 "We will not only be under the scrutiny of the European courts, but also the European Parliament, civil society and the press," she told a press conference in Brussels Wednesday. "The transparency, the built-in checks and balances is part of this."
Vestager's probes into tax rulings for companies helped the EU develop new tax legislation, she said, while a state-aid inquiry into power-capacity mechanisms fed into EU work on electricity rules. Antitrust reviews of e-commerce helped proposals on how far websites should block sales from shoppers in other European countries.
Investigations into specific companies "can inform what we do when it comes to regulation and the two things will have to work together in order for our markets to serve consumers well," she said. The EU doesn't ask for mergers, which they receive when deals hit certain revenue thresholds, and many state-aid and antitrust cases are prompted by complaints, she said. Failure to probe a complaint can lead to a court challenge.