EU's Juncker Rejects U.K. Bid to Stay in Parts of Single Market
(Bloomberg) -- European Commission President Jean-Claude Juncker rejected a key plank of the U.K.'s post-Brexit blueprint, saying that Britain can't stay in "parts" of the bloc's single market. Still, he said he would work "day and night" for a divorce deal, boosting the pound.
The pound erased losses as investors focused on the positive tone of Juncker's comments. But his message about what kind of future relationship the U.K. can expect with the bloc was unchanged. Speaking at his annual "State of the Union" address to EU lawmakers, he ruled out U.K. Prime Minister Theresa May's plan to stay in the single market for goods while going it alone in services.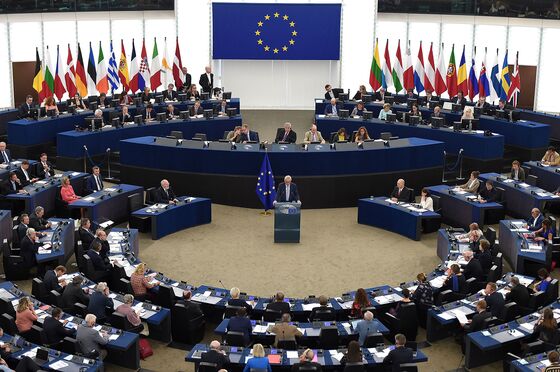 "The U.K. government must understand that a country leaving can't be in the same privileged state as a member," Juncker said. "If you leave the union, you are of course no longer part of our single market, and certainly not only in parts of it you choose."
His comments add to the obstacles facing May's plans for managing the withdrawal of the U.K. from the EU and agreeing on the fundamentals of the future relationship between the two sides. Pro-Brexit Tories are said to have spent several hours plotting to oust her on Tuesday night because they think she's betraying their vision of a clean break from the EU.
Juncker reiterated that he agreed with May's assertion that the basis of the two sides' post-Brexit relationship was an "ambitious" free-trade deal. But this falls short of the close economic ties set out in May's "Chequers" plan.
The EU "stands ready day and night to reach a deal," Juncker said. "The U.K. will always be a very close neighbor and partner in political, economic and security terms."
Juncker also warned that the EU would stand by its commitment to prevent the emergence of a hard border on the island of Ireland, the biggest remaining issue in negotiations on the U.K's withdrawal.
"It's Brexit that's making the border more visible in Northern Ireland, not the EU," Juncker said. "That's why we want to find a creative solution that prevents a hard border."