Pakistan Frees Christian Woman Cleared of Blasphemy Charges
(Bloomberg) -- Pakistan freed Asia Bibi, a Christian woman cleared of blasphemy charges whose acquittal by the Supreme Court last week sparked mass protests across the South Asian nation.
Bibi, who spent eight years in jail and faced the death sentence over allegations that she insulted the Prophet Muhammad, was discharged and "is safe and sound," Fayaz-ul-Hasan Chohan, the information minister of Punjab province where she was jailed, told Bloomberg by phone. Earlier, European Parliament President Antonio Tajani confirmed her release and said he looks forward to meeting Bibi and her family "in the European Parliament as soon as possible."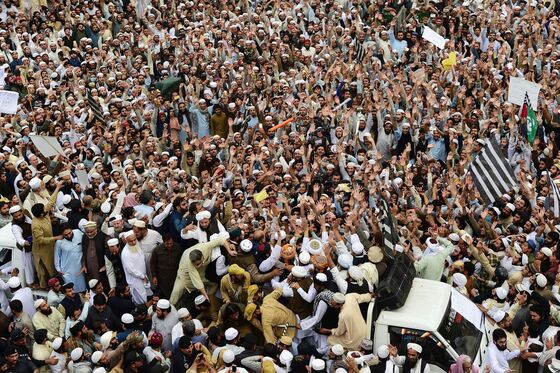 There was early confusion over whether Bibi had left jail or the country after her husband said they had applied for asylum in Europe. Early Thursday, Joseph Nadeem, a spokesman for Bibi, told Bloomberg she was still in jail. Foreign Ministry spokesman Mohammed Faisal denied that Bibi had been flown out of Pakistan. Information Minister Fawad Chaudhry on Twitter called reports that she had left the country "fake news."
Bibi's release from jail may spark protests again as Islamist parties are seeking her retrial. She was first accused of blasphemy by one of her Muslim neighbors after drinking water from the same well. Her case gained widespread attention after her conviction in 2010 when Salman Taseer, the then governor of Punjab province, campaigned for her release. Taseer was killed by one of his bodyguards for defending Bibi and calling for changes in the law to stop its misuse.
Taseer's killer, Mumtaz Qadri, was hanged for his murder -- a move that infuriated supporters of firebrand Muslim cleric Khadim Hussain Rizvi, who launched a violent drive to block any possible changes in the law.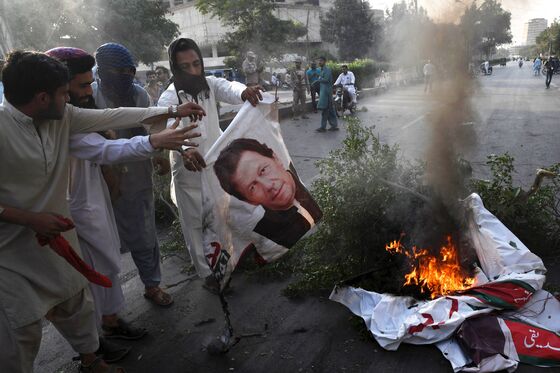 Despite cozying up to right-wing religious groups during election campaigning this year, Prime Minister Imran Khan strongly rebuked protests by Rizvi's Tehreek-e-Labaik Pakistan party which called for the deaths of the three Supreme Court justices who acquitted Bibi. In response its leaders called Khan a Jew and declared the powerful army chief, General Qamar Javed Bajwa, a non-Muslim.
Bilal Ghazi, a spokesman for Rizvi's TLP, said Bibi cannot leave the country until the court appeal. "We have petitioned for a review hoping that she will essentially be sent back to the jail," he told Bloomberg by phone. He declined to say if the party planned any protests if the appeal is overturned. "The leadership will take a decision in that case."
Offenses to religion laws were first introduced by British colonialists and Pakistan inherited them after independence in 1947. In the 1980s clauses were added by then hardline Islamist military ruler General Zia ul-Haq and the number of people accused of blasphemy increased.
Critics say those laws are unfairly applied and often used to settle scores. Yet religious groups -- despite having a minority presence in the country's parliament -- have continually protested moves to amend controversial legislation impacting non-Muslims or women.
Last year a cabinet minister had to step down for overseeing changes to a reference to the Prophet Muhammad in a lawmakers' oath after members of Rizvi's party blocked a main highway to Islamabad for several weeks. In May, the then Interior Minister Ahsan Iqbal also survived a gun attack by a man allied to the group.