EU Poised to Sanction Russia Over Jailing of Navalny
(Bloomberg) -- European Union governments are poised to pave the way for sanctions against Russia on Monday over the jailing of opposition leader Alexey Navalny, two diplomats familiar with the matter said.
The punitive measures are unlikely to target Russian tycoons, as Navalny and his allies have sought, because some of the bloc's member states are wary of burning all bridges with Moscow. Instead, the limits are likely to hit Russian officials and entities suspected to be directly involved in the case.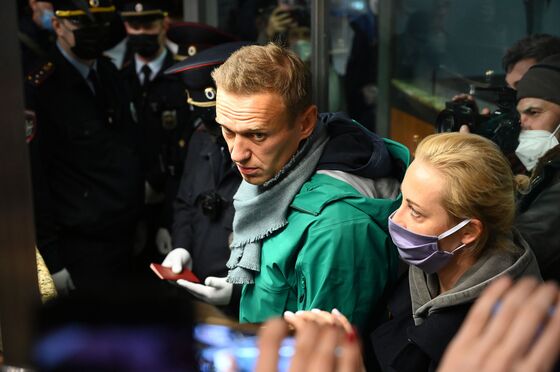 The differences over whom to include in the blacklist highlight the EU's attempt to walk a tightrope between assuaging concerns on its Eastern flank about Vladimir Putin's actions and fears in Brussels about China capitalizing on the row to increase its influence with Russia.
A green light in principle from foreign ministers for the measures will be the first step of a legal process that should see sanctions formally approved by March. Sanctions need unanimous support from the bloc's 27 members to be adopted.
Next week's discussion will come after the EU's top diplomat Josep Borrell came under fire over a humiliating trip to Moscow earlier this month, when Russian Foreign Minister Sergei Lavrov used a joint appearance to disparage the bloc, criticizing the EU as an unreliable partner. Borrell visited Moscow against the wishes of some EU member states, while several diplomats in Brussels said they were unhappy with his performance in the press conference. After the visit, Lavrov threatened to break off ties if the EU imposed painful sanctions.
Navalny's allies have called on the bloc to sanction senior officials, state bankers and billionaires Roman Abramovich and Alisher Usmanov. A spokesperson for Abramovich has said that there is no foundation to claims made against him by Navalny and his allies. Usmanov has not responded to requests for comment.
Navalny, 44, was detained in mid-January upon his return from Germany, where he was treated for a nerve-agent poisoning that he and Western nations blamed on President Putin's Federal Security Service, known as the FSB. The Kremlin denied any role in the attack.
A Moscow court on Feb. 2 sentenced Navalny to 2 years and 8 months for violating probation terms of an earlier suspended fraud conviction. His jailing sparked the biggest anti-Putin protests in years and a violent crackdown with 11,000 arrests and the prosecution of Navalny aides. Russia has repeatedly rejected EU and U.S. calls to free him.
On Wednesday, Russia rejected a decision by the European Court of Human Rights calling for Navalny's immediate release, dismissing the ruling as intervention in its internal affairs.
Within the EU, there was broad support for introducing sanctions among member states at a meeting of diplomats this week, according to a note of the discussion seen by Bloomberg. Several member states, including the three Baltic countries, Poland and Sweden, called for measures to be adopted swiftly, the note shows.
Others, including Germany and Italy, however, cautioned that any decision needs to be on firm legal grounding as the measures would have to stand up in court, adding sanctions should not shut the door on engagement with Russia and the bloc's broader strategic interests.
A majority of ambassadors stressed the importance of maintaining unity among member states on this issue while being firm in condemning Russia's treatment of Navalny. If a political decision is adopted on Monday, a process of specifying the individuals and entities which are going to be targeted with asset freezes and travel bans will follow.
Member states will submit proposed listings to the EU's foreign affairs arm (EEAS). Following a discussion on these proposals, the EEAS, which is coordinating the process, will compile a final sanctions list and ensure it is legally justified and sound ahead of final sign-off by member states.