Poland May Avert Court Chaos as Top Judge Hints at `Holiday'
(Bloomberg) -- The judge at the center of tensions over Poland's controversial court revamp indicated she may help avert sending the legal system into immediate disarray.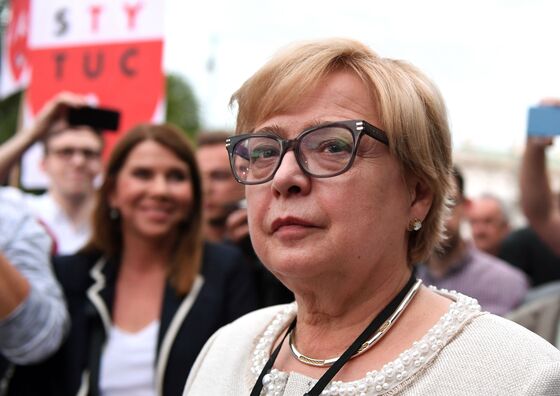 Malgorzata Gersdorf, who's refusing to accept being forced by a new law to retire Wednesday as head of the Supreme Court, said she plans to take a holiday. That could avoid an immediate row over authority atop the court system. President Andrzej Duda named his pick to lead the tribunal on Tuesday, pushing ahead with the overhaul that drew a warning shot from the European Union and triggered street protests.
"I stand here in defense of the legal order in Poland and I want to show there is a difference between the constitution and its violation," Gersdorf told hundreds of supporters outside the court Wednesday as she started her workday. "We confirm here our deep commitment to tradition and the rule of law in a democratic country," while "the changes taking place now show this tradition is being rejected."
Duda said he considers Gersdorf retired and announced Jozef Iwulski as her interim replacement. While Gersdorf views her status as unchanged, she also picked Iwulski as a potential replacement in case of her absence.
The reform is at the center of a conflict that's turned Poland from a poster-child for ex-communist Europe's transition to democracy to one of the EU's biggest headaches, risking billions of euros in aid. The European Commission recommended in December that its member states consider disciplining Poland for failing to uphold the bloc's democratic values, an unprecedented process that risks stripping the country of its voting rights.
"This is an important event for the justice system, but from the market's point of view, it will be more key how Poland's dispute with the European Commission develops," Jakub Borowski, chief economist at Credit Agricole Bank Polska SA, said Tuesday. "This dispute is now multidimensional and will probably take some time."
As many as 4,000 of Poles protested at the court in Warsaw on Tuesday evening and several hundred on Wednesday morning, according to estimates by Warsaw city hall. Former President Lech Walesa, who led Poland's anti-communist Solidarity movement in the 1980s, said he'll join the demonstrations.
The EU says the disputed legislation, which forces two-fifths of judges into retirement unless they get special permission from Duda, gives the ruling Law & Justice party too much sway over the courts. The overhaul will leave Polish courts bearing "a striking resemblance to the institutions which existed in the Soviet Union," according to a report by the Venice Commission, a democracy watchdog. Gersdorf calls it a "purge" that will enshrine single-party rule.
Law & Justice says the reform is necessary to remove communist-era holdovers and improve efficiency. The European Commission's "justification isn't right and we'll prove it before the European Court of Justice," Foreign Minister Jacek Czaputowicz said Monday.
Monday's "letter of formal notice" from the Commission gives Poland one month to respond and potentially answer calls from Vice President Frans Timmermans for amendments to the reforms. A final warning would come next in the form of a "reasoned opinion," after which a lawsuit could be filed at the EU court.
"This is the last call for Poland to change something in this area, but it seems that the Polish government feels its power, as Poland has the proper back-up to block sanctions," said Rafal Benecki, ING Bank Slaski SA's chief economist. "In the long run, the losses will be visible and it will be visible in EU funds."