EU Chiefs to Map Out Post-Brexit Vision This Week, Tusk Says
European Union President Donald Tusk said EU leaders will use a summit in Austria this week to map out their vision for the post-Brexit relationship with the U.K., as he held out the possibility of a special meeting in November to get the divorce deal done.
"We should reach a common view on the nature and overall shape of the joint political declaration about our future partnership with the U.K.," Tusk said in his letter inviting EU leaders to the informal summit on Sept. 19-20 in Salzburg, Austria. "We are entering the final weeks of negotiations."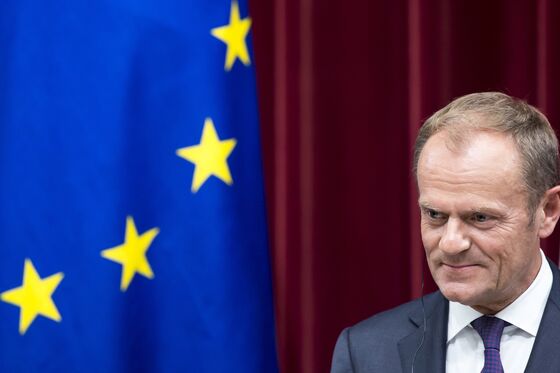 Though the views of the 27 other EU leaders on the planned declaration on future U.K. relations are converging, differences still remain, a senior EU official told reporters in Brussels Tuesday. The EU hopes to have a draft of the political declaration by October.
There's still debate on how detailed the political declaration on future ties will be, the official said on condition of anonymity.
A French official told reporters on Monday the future-relations declaration must set a precise framework for the future economic and security relations and must not leave ambiguity on the EU-U.K. relationship. Germany and the U.K. are happy to leave it vaguer.
The Salzburg summit will start with a dinner Wednesday evening at which U.K. Prime Minister Theresa May will give Britain's perspective on the state of play of the Brexit talks. The other 27 EU heads of state and government will hold a lunch meeting without May on Thursday, focusing on Brexit.
Tusk said the 27 EU leaders will "discuss how to organize the final phase of the Brexit talks, including the possibility of calling another European Council in November," which could be used to sign off on the divorce agreement and accompanying declaration on future relations. Getting that deal signed is needed for the transition period to come into effect -- a grace period that will keep trading rules unchanged until a new trade deal can be negotiated after the U.K. has left.
The main outstanding issues in the divorce discussions are the future-relations declaration and the so-called backstop to prevent a hard border on the island of Ireland.
"We should reconfirm the need for a legally operational backstop on Ireland," Tusk said in his invitation letter.
"Let me recall that limiting the damage caused by Brexit is our shared interest," Tusk also said. "Unfortunately, a no-deal scenario is still quite possible. But if we all act responsibly, we can avoid a catastrophe," he said.