EU Fears Whatever It Gives Won't Be Enough: Summit Update
(Bloomberg) -- European leaders rebuffed Theresa May's pleas to help her sell the Brexit agreement to a skeptical U.K. Parliament.
EU leaders offer some assurances, but far short of what the U.K. wants
May says U.K. Parliament needs more; talks to continue
Merkel says EU was trying to be helpful
Juncker calls for temperature to be turned down in Brexit debate
EU Fears Nothing Will be Enough for U.K. Parliament (5:20 p.m.)
Irish Prime Minister Leo Varadkar said the bloc is worried that whatever it offers May, it won't be enough to get the deal through Parliament.
"That was one of the questions that was asked by a lot of the prime ministers. What are you asking for? And if we give it how can we be sure that it's going to be enough?," he told reporters.
"If it's not enough, there's no point in giving it," he said.
Juncker Turns Down the Temperature (5 p.m.)
Jean-Claude Juncker said he would like to fire back against the House of Commons, which he sees as hostile to the EU, but he won't. Instead, talks will begin on how to prove to the British side that the EU does not want the backstop to last forever, he said.
"There is a deep mistrust in the House when it comes to the European Union,"Juncker told reporters in the closing press conference at the end of the summit. "We have to bring down the temperature."
He said talks will be needed. "In order to prove them that we mean this seriously, that we don't want this backstop being a permanent instrument then we have to discuss and to start negotiations."
Juncker added: "I can't see where the British Parliament is heading."
He also rebuffed one of the ideas that has been floated in recent days to help May sell her deal in London: to join the political declaration on the future partnership with the legally binding withdrawal agreement as an annex.
Macron: 'We Can Clear Up Illusions' (4:45 p.m.)
French President Emmanuel Macron also offered some words of mild reassurance: the EU can "clear up illusions" about the backstop, he said. But the deal cannot be renegotiated.
"What we can do is clear up illusions expressed about the backstop. The backstop is not our goal, it is not what we want, it is not meant to be permanent," he told reporters.


Merkel: 'We Wanted to Be Helpful' (4:15 p.m.)
German Chancellor Angela Merkel said the EU "wanted to be helpful" to May and that they tried to understand the U.K.'s concerns.
The summit conclusions were toughened up compared with an earlier draft. But Merkel said the statement still contains assurances for the British. Now it's up to May to respond, she said.
"We were very attentive and we attempted – and I think to some extent we managed
that – to understand what the concern is," she said. "We wanted to be helpful, but in the framework as I described, that the exit treaty remains as it is."
May Says Parliament Will Need More from EU (2:44 p.m.)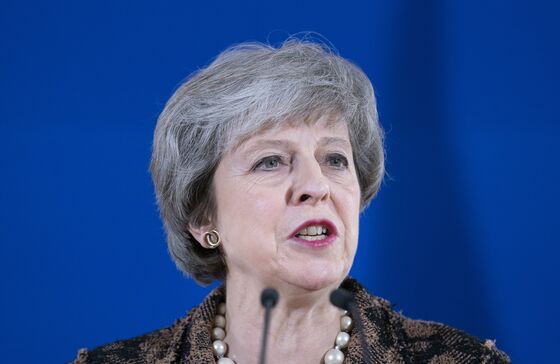 It was a shorter than usual press conference from May at the end of arguably her most difficult week in office. She was caught on camera earlier on Friday berating Jean-Claude Juncker for suggesting she had been "nebulous" in her requests. May said she'd had a "robust" exchange with Juncker, and insisted that's fine because the pair work well together.
On the substance of her mission -- to get concessions from the EU on the Irish backstop -- May offered two key messages: first, that the EU has moved some way to making a legal promise that the backstop won't be forever. Her evidence for this was that the EU summit conclusions constitute a legal text in themselves.
But May's second point was that this won't be enough to satisfy Parliament and the EU needs to start serious talks with the U.K. in the coming days.

May: EU's Intention Is to Not Use Backstop (2:30 p.m.)

"I have always said the way to avoid the backstop is to have the future partnership in place before we reach the end of the implementation period," May said.
"It is their intention for the backstop never to be necessary," she said.
May Says Clarification, Discussion Possible (2:24 p.m.)

"The EU is clear as I am that if we are going to leave with a deal this is it," May told reporters after the summit. "Further clarification and discussion is possible."
"We will be working expeditiously over the coming days to seek those assurances that MPs need," May said.
Kurz Sees January Summit If May Can't Win Support (11:10 a.m.)
Austrian Chancellor Sebastian Kurz says EU leaders may have to get together again next month to work out a way forward if May can't persuade the U.K. Parliament to back her plans.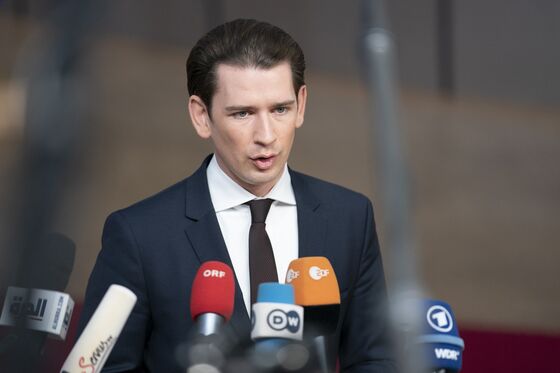 "First we need to wait for the vote in parliament, and that that is successful," he told reporters. "If this doesn't happen I expect that we will get together to discuss it again in January."
Brexit Is Harder Than U.K. Thought, Bettel Says (10:39 a.m.)
Luxembourg's leader is not holding back his frustrations with the whole Brexit process.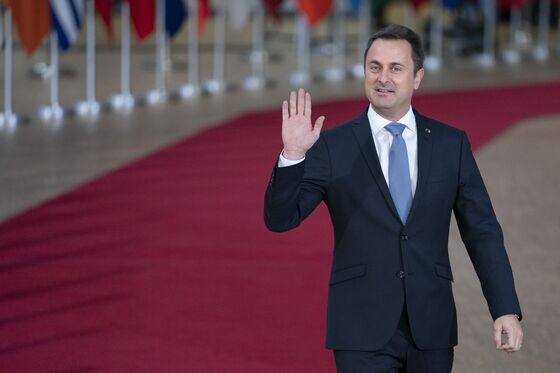 "Remember what was said during the referendum campaign? To leave was like writing a letter to Brussels and it will be done in 24 hours," Xavier Bettel said. "We've been debating for two years now."
He urged the British to realize that the deal on the table is better than the alternatives.
"It's the best possible one, it's maybe not perfect but a no deal is lose-lose," he said.
Luxembourg Says No (10:18 a.m.)
Bettel is pretty clear about May's chances of squeezing better terms out of the EU.
"No, no no, no, no. There will be no new negotiations," he said. "It's out of the question."
And he added his voice to the chorus of warnings about the risks of no deal.
Slovakia Wants to Avoid Another Brexit Summit (10:10 a.m.)
Prime Minister Peter Pellegrini said he thinks the EU sent a very positive message to May last night.
"I hope that Theresa May will be able to have majority for voting in January next year," he said. "I hope there will not be another summit."
Still, he warned that Britain leaving without a deal is "always a real possibility."
Michel Calls on Europe to Prepare for No Deal (9:53 a.m.)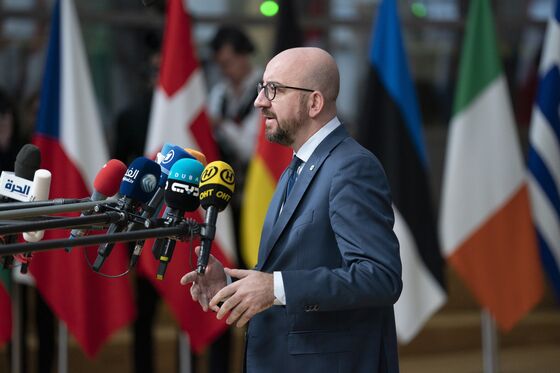 Belgian Prime Minister Charles Michel says the EU needs to step up its preparations in case Britain crashes out without a deal because Brexit isn't going well.
"The signals we got are not especially reassuring on the capacity in the U.K. to honor the deal agreed," Michel told reporters in Brussels. "My impression is that we need to speed up our preparations because a no-deal is now a real possibility."
Romania Says EU Needs U.K. Lawmakers to Vote (9:43 a.m.)

Romanian President Klaus Iohannis says the European Union doesn't want to have to rely on the controversial backstop arrangements to handle the issue of the Irish border. But the EU does need to see May go back to parliament to win support for her plans.
"We need a vote from the British Parliament to continue," he told reporters in Brussels before a second day of summit talks.