EU Lawmakers Seek Clampdown on Czech Prime Minister's Business
(Bloomberg) -- European lawmakers increased pressure on Czech billionaire Andrej Babis in a probe into whether he's in conflict of interest for not severing ties with his business empire while holding the post of prime minister.
It's the latest challenge by the European Parliament against a member state as the bloc struggles to prevent populist governments from Rome to Warsaw from bucking norms on issues ranging from budget prudence to democratic standards. Since last year, EU bodies have backed processes that could theoretically end with Hungary and Poland losing their voting rights in the bloc.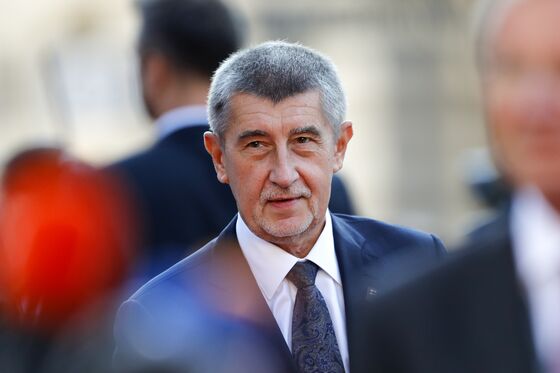 Lawmakers approved a resolution on Thursday asking the EU to stop subsidies for all companies linked to Babis and conduct a "thorough investigation" of his possible conflict. The premier has rejected the allegation, saying he's had no power over Agrofert, a conglomerate of more than 250 companies with about $7 billion in revenue, after he placed it in trusts.
"Mr. Babis has been revealed to be the beneficial owner of Agrofert," the assembly said in a statement after the vote. "The members of the European Parliament now demand that the European Commission fully investigate the legality of all EU subsidies paid to the Agrofert Group since Mr. Babis joined the Czech government."
Accusations that he has used media outlets to attack his rivals and that he misappropriated EU funds have done little to dent support for his government's hikes to pensions and public wages and his non-stop warnings that without his leadership, the country would be overrun by migrants.
According to a complaint lodged by corruption watchdog Transparency International, Babis remains the ultimate beneficiary of two trusts that own Agrofert, a large recipient of EU subsidies that are meant to go to the bloc's most needy. Critics say that's against the rules because the premier helps decide on the EU budget.
He has rebuffed the allegation, saying: "I'm not managing or controlling the trust funds; I don't even have time for that." The Czech Republic hasn't asked for any EU subsidies since the bloc adopted stricter conflict-of-interest rules in August, a member of EU parliament for Babis's party said Thursday.
Babis has steered clear of measures to interfere with judiciary and media freedoms, which are at the heart of the EU's battles with Poland, Hungary and Romania.
Since winning elections last year, he has sought a delicate balance with western EU leaders. But he also embraced Viktor Orban.
While he has no serious rivals at home amid a fragmented opposition, the debate about Agrofert could deal a blow to his business if the European Commission concludes he's in conflict, according to Jiri Pehe, the director of New York University in Prague.
"He seems very much attached to his company," he said. "So if the European Commission forced him to decide between subsidies and politics, it would be a very difficult, almost existential, dilemma for Babis."