EU Votes on Hungary Censure Proposal as Allies Desert Orban
(Bloomberg) -- The European Parliament will decide on Wednesday whether to take the unprecedented step of censuring Hungary for eroding democracy, with even some of Prime Minister Viktor Orban's allies in Europe saying the time has come to push back against a populist surge.
The most serious penalty -- suspending Hungary's vote in the bloc -- would be unlikely as it would require unanimity by European Union leaders and Poland has pledged to shield Orban. But support for the censure motion by an overwhelming majority of EU Parliament members, including the Hungarian leader's center-right family, would threaten to push him further toward Europe's populist movement just before continent-wide legislative elections.
After a heated debate at the 28-nation Parliament on Tuesday, Orban said he expected it to muster the two-thirds majority needed for a proposal saying that Hungary poses a "clear risk of a serious breach" of EU values such as the rule of law. The EU assembly has never voted on such an initiative, which would force governments to weigh a sanctions procedure against Hungary under Article 7 of the bloc's treaty.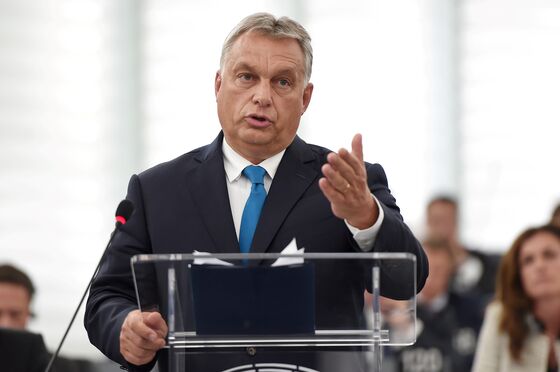 "They'll back the proposal," Orban told reporters in the EU Parliament's headquarters in Strasbourg, France. "We're not kids; we see what's going on."
The clash is part of a battle in Europe between supporters of liberal democracy and populists, many of whom have cited Orban's anti-immigration stance and other EU-bashing habits as inspiration. Sweden over the weekend became the latest country to see a surge in populist votes after similar forces pushed Britain onto the EU exit path and catapulted political bedfellows to power in Poland and Italy.
With the harshest EU sanctions unlikely ever to be sought, markets have largely ignored the sparring in Strasbourg. The forint this week has tracked most of the currencies in eastern Europe. It traded at 324.89 to the EU's common currency as of 9:50 a.m. in Budapest, little changed from Friday's close of 324.94.
Orban has named allies to head formerly independent institutions, rewritten the constitution and curtailed the power of the courts since returning to power in 2010. More recently, he's led a crackdown against non-governmental organizations, the press and universities, calling for the creation of an "illiberal state" with few effective checks on executive power.
The European Commission, the EU's regulatory arm in Brussels, has requested a parallel Article 7 process to check a political assault on judicial independence in Poland, where the government has mimicked many of Orban's moves.
"Let us decry knee-jerk nationalism, which attacks others and seeks scapegoats rather than looking for solutions," commission President Jean-Claude Juncker said in the EU Parliament on Wednesday shortly before its vote. "Unchecked nationalism is riddled with both poison and deceit."
Just as Poland has pledged to veto any EU sanctions against Hungary, Orban has vowed to do the same for the government in Warsaw. Notwithstanding that safety net, a pariah status within the EU club would also bring its own costs in terms of a national leader's ability to influence European policies and appointments.
The outcome on Wednesday has for days appeared too close to call, in part because Orban's Fidesz party is allied to Europe's Christian Democrats, the biggest group in the assembly. The faction, known as the European People's Party, also includes German allies of Chancellor Angela Merkel.
EPP lawmakers will be allowed to vote their conscience after Orban refused to compromise on policy to defuse concerns over the rule of law, Manfred Weber, the EPP group's floor leader, who's seeking to become the next president of the commission, told reporters late Tuesday.
"I will vote in favor of the Article 7 procedure," Weber said. "You will see a lot of colleagues are ready now to go the next step."
Orban, for his part, went further, predicting that the EPP would then try to suspend or even evict Fidesz. He vowed to fight such a move while insisting he'd make no policy compromises to the group.
Wednesday's vote at around 1 p.m. in Strasbourg will be a test of the EU's commitment to fundamental values before legislative elections in May, with populists angling for control over the bloc's direction.
Critics in the EU Parliament on Tuesday said Orban's threat to the rule of law marks a make-or-break moment for Europe.
"Stop this nightmare," said Guy Verhofstadt, leader of the Liberals in the chamber. He said Orban was bent on wrecking the EU in tandem with the likes of populist Italian Deputy Prime Minister Matteo Salvini.