EU's Taiwan Delegation Set to Anger China by Calling for Stronger Ties
(Bloomberg) -- The European Parliament's first official delegation to Taiwan called for more "high level" exchanges between the two sides, disregarding Beijing's warnings against diplomatic ties with the democratically ruled island.
"Our visit should be considered as an important first step," French member of the European Parliament Raphael Glucksmann told President Tsai Ing-wen on Wednesday in Taipei. "Next we need a concrete agenda of high-level meetings to build a much stronger EU-Taiwan partnership." 
Glucksmann is chair of the seven-strong group of lawmakers from the European Parliament's special committee on foreign interference that landed in Taiwan Wednesday and is scheduled to meet top leaders during their three-day trip. While European parliamentarians have regularly visited Taiwan in the past, this is the first time the body has officially sent a delegation, according to a statement from Taiwan's Foreign Ministry.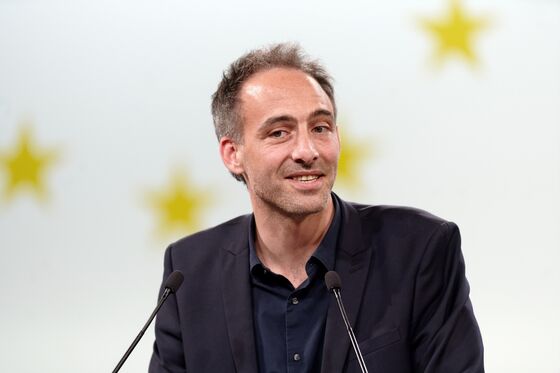 His comments have angered China, which considers Taiwan part of its territory and vociferously objects to countries engaging in official contact with Taipei. European nations have recently been testing those boundaries with diplomatic exchanges that saw top Taiwanese officials visiting the Czech Republic, Slovakia and Lithuania in separate trips last month -- exchanges Beijing promised would be met with "legitimate countermeasures." 
Chinese Foreign Ministry spokesman Wang Wenbin said at a regular press conference in Beijing on Thursday that China had lodged "stern representations" of its "strong discontent" over the delegation to the European Parliament. "We urge the European side to correct its mistakes and not send any wrong signals to the Taiwan independent separatist force otherwise it would harm China-EU relations," he added. 
Tsai told the lawmakers that a report recently adopted by the EU calling for greater ties with Taiwan had passed with 86.3% of the vote, which she called the second highest level of approval for a report in the current parliamentary term. China's Foreign Ministry spokesman Wang Wenbin has labeled the bloc's decision to back that report as "vile" and warned it would have an egregious impact on ties with Beijing.
The EU group on Wednesday seemed undeterred by China's rhetoric calling Taiwan a "key, like-minded partner."
"Taiwan is the most vivid, robust and enlightened democracy in this region," Glucksmann said. "It is a treasure that all democrats around the world should cherish and protect. We came here with a very clear message: you are not alone."