EU Revives Serbia's Accession Process After Two-Year Lull
(Bloomberg) -- The European Union agreed to broaden accession talks with Serbia, the largest of the six Balkan countries aspiring to join the bloc, reviving a process that had shown little progress for two years.
None of the Balkan aspirants are expected to join the bloc before 2025 at the earliest, as enlargement fatigue and a decade of crises in the EU has engendered reluctance among some members about accepting newcomers.
Still, the EU's executive commission gave the country of 7 million the green light to start talks on transportation, energy, environment and other issues in the first opening of new negotiation topics, known as chapters, since 2019. that brought the number of chapters under discussion to 22 out of 35.
"Serbia is taking yet another important step forward to joining the European Union," Enlargement Commissioner Oliver Varhelyi said in Brussels on Tuesday after meeting with top Serbian officials.
Isolated and under punitive sanctions during Yugoslavia's violent breakup in the 1990s, Serbia became an official candidate in 2012. But talks have been hampered by its dispute with the former province Kosovo, which seceded in 2008, a decade after the two sides fought a war.
EU-brokered talks on mending the ties, a key condition for accession, have stalled for years.
"Serbia's progress on the rule of law and the normalization of relations with Kosovo remain essential for the overall pace of the accession negotiations," Varhelyi said. "It is therefore crucial that Serbia continues to deliver results."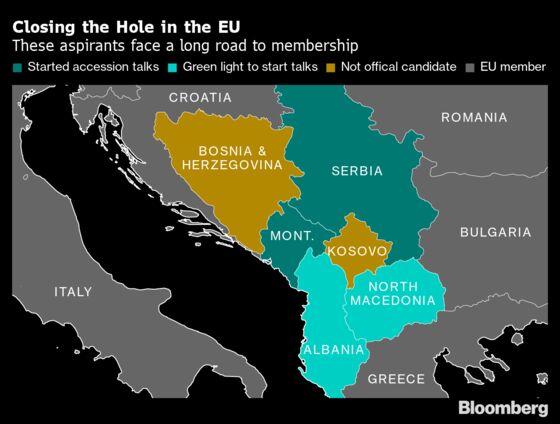 Serbia's list of required reforms include transforming its judiciary to meet EU standards, for which the government plans to hold a national referendum on Jan. 16.
"This is great recognition of Serbia's efforts," said Premier Ana Brnabic. She added that, adjusting the economy, environmental and climate change standards could cost around 10 billion euros ($11.3 billion).