EU Discussing Russia Sanctions After Ukraine Naval Clash
(Bloomberg) -- European Union governments are discussing sanctions on Russia in the wake of its latest confrontation with Ukraine, though no action is likely until the facts are fully established, a German official said.
The balancing act is a sign of Europe's constraints in getting tough with President Vladimir Putin after imposing a series of sanctions, championed by German Chancellor Angela Merkel, to punish Russia's annexation of Crimea and meddling in Ukraine. Merkel called for de-escalation in a phone call with Putin late Monday, according to the chancellery in Berlin.
Having pushed through a decree for martial law in some Ukrainian regions, President Petro Poroshenko is now turning his attention to the 23 sailors and three navy ships captured Sunday in the clash near Crimea. He repeated a warning Tuesday that he's issued frequently in recent years, that Ukraine is at risk of full-scale war with Russia.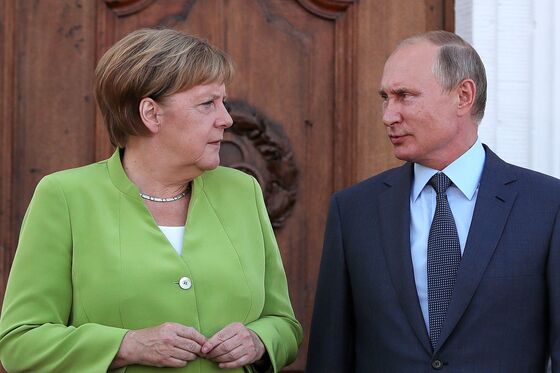 While NATO said there was no justification for Russia's use of military force against Ukrainian ships, the two sides are blaming each other. More evidence will have to be sought on what happened, according to the German official, who asked not to be identified discussing private deliberations.
"We'll see about the issue of further sanctions," Austrian Foreign Minister Karin Kneissl said alongside her German counterpart, Heiko Maas, in Berlin on Tuesday. "Everything depends on this examination of the facts."
While Merkel didn't tip her hand on the option of expanded sanctions, she and Putin discussed the possibility of a fact-finding mission involving Russian and Ukrainian border-security experts, according to a chancellery statement. Some in Merkel's governing Christian Democratic-led bloc called for tougher action.
"This topic can't be taken off the table," Norbert Roettgen, chairman of the German parliament's foreign affairs committee, told broadcaster DLF. "It's one of our few tools."
Alexander Dobrindt, whose CSU party is part of Merkel's bloc, said additional sanctions probably wouldn't be productive. Instead, Merkel should confront Putin at this week's Group of 20 summit in Argentina, he said.
"It's not enough just to appeal to both sides for restraint," Dobrindt told reporters.
But while smaller EU nations that border Russia, including Estonia and Lithuania, have called for addition sanctions, it's unclear how much wider appetite there is for more penalties.
"The German impact is very limited and there's no consensus among the member states at the moment to go for further sanctions," said Stefan Meister, an analyst at the German Council on Foreign Relations. For many capitals, "it's clear that this is lip-service."
With President Donald Trump inclined to distance himself from the Ukraine-Russia conflict, U.S. Ambassador Nikki Haley took a circumspect stance at a United Nations Security Council meeting where she accused Russia of "reckless escalation."
"The United States will maintain its Crimea-related sanctions against Russia," Haley said on Monday, a day after the naval clash. "Indeed, further Russian escalation of this kind will only make matters worse."
Russia sees no need for a mediator to help reduce tensions over the Kerch Strait with Ukraine, Foreign Minister Sergei Lavrov told reporters after talks with French counterpart Jean-Yves Le Drian in Paris on Tuesday.
Ukraine's European partners should "send a very clear signal to Kiev" to avoid "provocations" if they want to prevent similar incidents in the future, he said.
In a sign of confidence in the face of the sanctions threat, Russia announced plans Tuesday to sell international debt.