EU Health Chief Eyes High Drug Costs in Campaign Against Cancer
(Bloomberg) -- The European Union's health chief is set to kick-start a campaign against cancer, the biggest killer in the bloc after cardiovascular disease, by tackling everything from expensive medicines to poor diets.
European Health Commissioner Stella Kyriakides on Tuesday will outline a plan to prevent cancer, detect it early and improve treatment across the EU.
Her goal is to combat an illness that causes a newly diagnosed case in the EU every nine seconds and that kills 1.3 million people in the bloc annually. Kyriakides is leaving open the possibility of a clampdown on skyrocketing prices for anti-cancer drugs.
"We are going to be looking at everything across the board," she said in an interview with Bloomberg on Monday in Brussels. "There is quite significant momentum."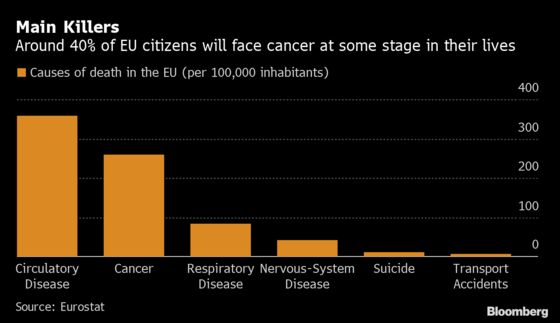 Europe is growing increasingly concerned about the economic costs of cancer -- more than 100 billion euros ($111 billion) a year -- and wants to prevent it from becoming the EU's leading cause of mortality.
Around 40% of EU citizens will be afflicted by cancer, according to the European Commission, the bloc's executive arm, which says the term covers more than 200 diseases. Without further action, cancer cases could double by 2035, said the commission.
The plan to be outlined by Kyriakides focuses to a large degree on possible prevention measures because as much as 40% of cancer cases are attributed to preventable causes. Actions in this area could include healthier diets, reduced exposure to chemicals and heightened awareness.
Kyriakides cited "huge problems" with regard to access to medicines for such illnesses as pediatric cancer.
"We clearly need to address it," she said. "We need to do something different from what is being done at the moment at member-state level."
Kyriakides also mentioned the need for stepped-up European efforts to control tobacco, which is a leading cause of cancer and has been the focus of stricter European legislation in recent years.
Because health policy in Europe is the responsibility mainly of EU national governments rather than of the bloc's institutions, her initiative may amount largely to an effort to bolster the efforts of member countries.
Kyriakides declined to speculate about any new EU-wide laws that could emerge.
Her move on Tuesday will open a public consultation to enable input from EU stakeholders and citizens. After more detailed discussions with EU governments, the commission intends to present a fuller "Europe's Beating Cancer Plan" by year-end.