EU Expects Vaccine Surge in Second Quarter With New Contracts
(Bloomberg) -- The European Union predicted a surge in the domestic supply of Covid-19 vaccines during the second quarter and said the bloc had authorized exports of the shots to the U.K. and Canada.
"We expect that in the second quarter we should be receiving 300 million doses and, of course, more if other vaccines come on stream," European Commission spokesman Eric Mamer told reporters on Tuesday in Brussels.
The comments came as the commission sought to tamp down criticism of its vaccination strategy, which has seen just 2.9 doses administered per 100 people, far behind the 14.7 in the U.K. and 10 in the U.S. European supplies from Johnson & Johnson and CureVac NV are expected to start flowing in the second quarter as well as a new contract doubling doses from Pfizer Inc.-BioNTech SE.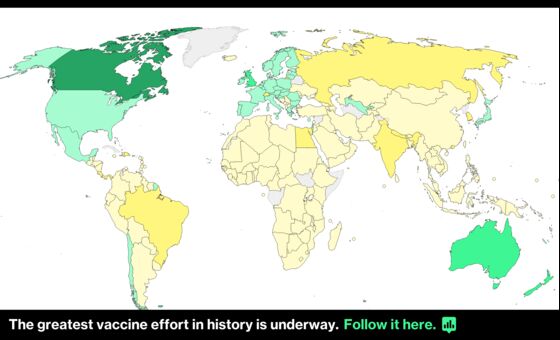 The move to ship doses to the U.K. and Canada will ease concerns that a new EU export-authorization system for Covid-19 vaccines would hinder supplies to other parts of the world. The restrictions were unveiled amid a furor after AstraZeneca Plc said it would deliver less than half its planned vaccine shipments to the EU in the first quarter.
"We have already been receiving requests for deliveries," Miriam Garcia Ferrer, the commission's trade spokeswoman, told reporters on Tuesday. "So far, the information we have is that we've got two requests for deliveries -- one for Canada and one for the U.K."
The 27-nation bloc established the export-authorization system four days ago amid calls to ensure adequate domestic supply. Commission President Ursula von der Leyen will discuss the bloc's vaccine strategy on Tuesday with political groups in the European Parliament.
"We need to make sure that we have absolute clarity and transparency on vaccine production in the EU and its exports," EU Trade Commissioner Valdis Dombrovskis told an online event on Monday. "Unfortunately, this transparency was not forthcoming in the actions of some of the companies."
He added: "This is not there to block exports. So what we want to achieve is transparency and proportionality."
Separately, Chancellor Angela Merkel will make a rare appearance on national television on Tuesday in a bid to calm citizens' concerns over Germany's stuttering Covid-19 vaccination program.
Merkel and her government have come under fire after she pushed Germany into ceding responsibility for negotiating vaccine contracts to the commission. Subsequent delivery delays have been blamed for slowing down the distribution of shots.
Merkel on Monday doubled down on a promise to all Germans that they will get a first shot of Covid-19 vaccine by the end of September, as long as drugmakers stick to their delivery commitments.
Even if new vaccines aren't approved, Europe's largest economy will have sufficient supplies despite earlier delays, she said after crisis talks with pharmaceutical executives, cabinet ministers, the country's 16 state premiers and European Commission officials.