Raab Says 'Canada Plus' Is Shortcut to No Deal: Brexit Update
(Bloomberg) -- Brexit negotiations are in a make-or-break phase ahead of a key European Union summit on Oct. 17. British lawmakers will hear from Brexit Secretary Dominic Raab later, while Arlene Foster -- whose Northern Irish party props up the U.K. government -- is fighting her corner in Brussels.
Raab leaves wiggle room on regulatory border (6:33 p.m.)
A lawmaker from the Democratic Unionist Party tried to put Raab on the spot by asking him how would the U.K. ensure that the "foolishly agreed" backstop won't last forever. Raab's answer was that "we have been clear that the backstop would need to be a temporary and finite bridge to the future relationship." Raab repeated the line that there cannot be a customs border between different parts of the U.K. -- but that answer leaves the door open to a regulatory border in the Irish Sea.
Raab dodges question on timing (6:14 p.m.)
Raab was asked directly when the government would publish its latest backstop plan -- details were expected to come out as soon as this week though the latest signs point to a delay. Raab responded to the question -- by a pro-Brexit Conservative -- by saying the government had been clear on its policy. That counts as a dodge.
In answer to Steve Baker, former Brexit minister (6:02 p.m.)
Steve Baker, the former Brexit minister who resigned with David Davis, stood up and asked Raab to recognize that there were solutions to the Irish border problem that did not involve a backstop. Raab's response was that what Baker proposes -- known as the Canada plus -- has been flat-out rejected by the EU.
What Baker is proposing is a shortcut to a no deal, said Raab.
U.S. not playing so nice (5:47 p.m.)
The U.S. is threatening to block the U.K. from a 46-nation public procurement agreement, a move that would deny British companies from accessing a near $2 trillion-dollar marketplace after leaving the European Union, according to two officials with knowledge of the situation.
Read more about this exclusive here.
Raab addresses Parliament on Irish backstop (5:41 p.m.)
Brexit Secretary Dominic Raab insists that any backstop will be "time-limited," during a question-and-answer session in Parliament. He then went on to say that a second referendum on Brexit would be "democratic outrage."
Ireland see situation becoming clearer next week (5:06 p.m.)
Speaking to reporters in Dublin, Irish Foreign Minister Simon Coveney said it's not clear yet if new U.K. proposals will be enough to justify a summit in November, but the situation will be much clearer by Monday or Tuesday next week. On the whole, he said it's much likely than a deal will be struck in November than later this month, with talks between the EU and U.K. now intensifying. He also struck a note of optimism, saying he believed a deal on Britain's divorce terms will be reached.
Davis Sends Warning Letter (4:25 p.m.)
Former Brexit Secretary David Davis is on maneuvers, publishing a letter to fellow Tory lawmakers warning them that unless the party drops May's Brexit plan and goes for a Canada-style free-trade deal, voters will punish them at the next election.
Davis's letter argues that the Irish border problem can be solved by officials in Northern Irish ports checking goods coming from Britain -- and he says the DUP supports this.
His record in forecasting elections isn't flawless: He was among those urging May to call last year's snap vote, which cost her her majority. Though he blames that on the campaign.
Sturgeon Blasts 'Unfolding Calamity' (4:15 p.m.)
Scottish First Minister Nicola Sturgeon rallied her troops for another shot at independence, telling her fellow nationalists that breaking away from the U.K. is the only way to avoid the "unfolding calamity" of Brexit after Scots chose to remain in the European Union.
In her speech to the Scottish National Party conference in Glasgow, she slammed the Conservatives for cutting spending on social security and seeking to curb immigration. She also attacked Labour for touting policies on taxation, state ownership of water supplies and free university tuition that her party already implements in Scotland.
She reiterated that the SNP would back another referendum on Brexit should a proposal come to Parliament. But the real goal -- unsurprisingly -- remains another vote on independence, something that Prime Minister Theresa May has rebuffed.
"You can oppose independence -- that is your democratic right," Sturgeon said. "But you cannot -- and you will not -- deny Scotland's right to choose."
"The future relationship between the U.K. and the EU will determine the context in which Scotland would become independent," she said.
Hillary Clinton Attacks May (2:50 p.m.)
Hillary Clinton, the former U.S. presidential candidate, found herself in Oxford giving a speech at the world-famous university. She reserved some strong language for Theresa May -- not so much for her Brexit policy, but for being soft on the "authoritarian" government of Hungary.
"It's disheartening to watch conservatives in Brussels vote to shield Viktor Orban from censure -- including British Tories," Clinton said in a speech. "They've come a long way from the party of Churchill and Thatcher."
She added that the "slide toward autocracy is at least as grave a threat to the European project as the financial crisis, or Brexit."
DUP Warns May Over Irish Backstop (2:45 p.m.)
In a BBC interview, the DUP's Brexit spokesman Sammy Wilson warned Prime Minister Theresa May not to try to "bounce" his party into accepting a new proposal for the Irish backstop -- the part of the Brexit withdrawal agreement that ensures no hard border in Ireland in the absence of a broader trade deal.
Asked if his party had seen the new proposal promised by the British government, Wilson said: "What we have made very clear to the government is if they don't want a repeat of December of last year, when they tried to bounce us into accepting arrangements that we had not seen, then we've have got to see the text, we've got to be happy with the text."
Wilson also said that previous deadlines in this process had slipped, and he predicted next week's would probably pass as well.
The EU hasn't set next week as a final deadline, though it has said if there's insufficient progress then on the Irish backstop, it will not schedule an emergency November summit for the deal to be finalized.
U.K.'s Irish Border Proposal 'in Due Course' (12:45 p.m.)
Government spokesman James Slack has finished briefing reporters in London, and the Brexit lines are very similar to Monday. The U.K.'s new proposal for how to prevent a hard border with Ireland is coming "in due course," Slack said, signaling that the government expects the EU to flesh out how it sees Britain's future ties to the bloc.
"We cannot agree to a withdrawal agreement without a precise future framework," he said. Technical talks with the EU will continue on an "intensive basis" over the next week, he said.
Slack also commented on the DUP's Arlene Foster, who spoke to reporters in Brussels earlier. "The DUP said this morning that they are trying to find a deal that works for everyone, and that's what the government is trying to do," Slack said.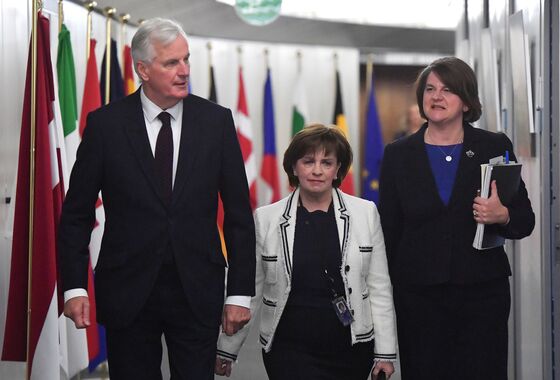 Asked when the U.K. would share its proposals with Foster's party, Slack said May and her ministers speak "regularly" with the DUP, and will continue to do so.
Raab Could Face Challenge From Brexiteers (11:45 a.m.)
When Raab addresses Parliament this afternoon, he'll have to reassure Conservative backbenchers -- and even his Cabinet colleagues -- that Prime Minister Theresa May won't make any unpalatable compromises in talks with the EU.
Earlier, Secretary of State for International Development Penny Mordaunt declined to say explicitly whether she supported May's so-called Chequers plan for Brexit.
"The prime minister can count on my support," Mordaunt said. "But what I would say is that we don't know where this is going to end up. We are at a critical moment now. The ball is firmly back in the EU's court; we are waiting for them to respond.''
Former Brexit minister Steve Baker took to the airwaves to warn May that she could face at least 40 rebels -- including himself -- when her deal comes back from Brussels for a meaningful vote in Parliament.
"I try never to have a bluff to be called," Baker told the BBC. "Of course, the government are going to whip this vote extremely hard. The whips would be doing incredibly well if they were to halve the numbers. My estimate is that there are at least 40 colleagues who are not going to accept a half-in, half-out Chequers deal" or a Northern Ireland solution that leaves the U.K. in the single market.
Foster Hints at Irish Border Compromise (11:25 a.m.)
Democratic Unionist Party leader Foster twice refused to rule out blocking Prime Minister Theresa May's Brexit deal, saying "we have always said there is only one red line'' and signaled she was willing to accept a compromise on the Irish border question in the Brexit divorce agreement.
The DUP's red line is any deal which treats Northern Ireland differently from the rest of the U.K., Foster said on Tuesday at a televised press conference in Brussels, following a meeting with the EU's chief negotiator Michel Barnier.
"This is a seminal moment for the constituent parts of the U.K. and that has to be guarded,'' Foster said. "It shouldn't be presented as a border in the Irish Sea or as border in the isle of Ireland. That is not the choice. We are trying to find a deal that works for everyone. It's not a binary choice."
May's government has said it will set out further proposals on the so-called backstop arrangement aimed at avoiding a hard border with Ireland. That could involve regulatory checks on goods traveling from Britain to Northern Ireland.
"We need to see the text,'' said Foster, whose 10 lawmakers in Parliament are crucial to propping up May's minority Conservative government. "When the government comes forward with a text, we will consider it.''
EU Envoys Said to Plan Brexit Meeting Oct. 12 (10:25 a.m.)
Envoys from the European Union's 27 governments are planning to hold a pre-summit meeting on Brexit in Luxembourg on Oct. 12, a person familiar with the preparations said.
According to the EU Council's public calendar it was originally scheduled for Oct. 10, indicating a delay. The U.K. has yet to submit its revised proposal for the post-Brexit border with Ireland -- a key sticking point in negotiations. A British government spokesman said Monday it would do so "in due course," and it expects the EU to move first.