EU Economic Weakness Should Push Bloc to Brexit Deal, Fox Says
(Bloomberg) -- Trade Secretary Liam Fox said he's confident the U.K. can agree a divorce deal with the European Union by the end of next month because the continent's faltering economies will force the bloc to come to an "accommodation."
Citing Italy entering recession and weakness in the German and French economies, he said the EU 27 should be pushing for a deal.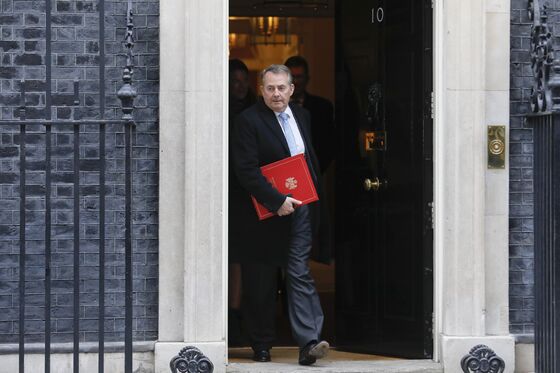 "This is not a good time to introduce further unnecessary instability into the European economy," Fox said at an event in central London on Friday. "That's why I hope the European Union will recognize the best way forward for all of us is to get an agreement as quickly as possible."
Prime Minister Theresa May has been battling to get Parliament to back her divorce deal, and this week won a mandate to return to Brussels to seek concessions on the provisions for the post-Brexit Irish border. But time is running short for her to reach an agreement and have it approved before the March 29 deadline.
The U.K. has been laying the groundwork for a potential delay, and on Thursday Foreign Secretary Jeremy Hunt became the most senior minister yet to suggest the deadline could be pushed back to allow time for legislation to be passed.
Fox reiterated that he would be comfortable with a short delay, but said lawmakers warning over the catastrophic consequences of a no-deal divorce would only have themselves to blame if it becomes a reality because they fail to support May's agreement with the EU.
"They have to ask themselves who they actually represent," Fox said. "Those who block a deal, then complain about no deal, will have no cover when next they face the voters."