EU Denies Report of Meeting Over U.S. Auto-Import Tariffs
(Bloomberg) -- The European Union denied a German magazine report that the bloc's chief trade negotiator Cecilia Malmstrom was headed to Washington this week to meet with her U.S. counterpart, in a last-ditch attempt to head off tariffs on car imports.
Malmstrom, who last met with U.S. Trade Representative Robert Lighthizer in Washington on Nov. 14, foresees no further get-togethers in coming days or weeks, an EU spokesman said by phone on Tuesday. Business magazine WirtschaftsWoche reported earlier that President Donald Trump was poised to impose duties as soon as next week.
The WiWo report sent shares of German carmakers tumbling. Volkswagen AG fell as much as 5 percent, while Mercedes-Benz maker Daimler AG declined as much as 3 percent, and BMW AG slipped 2.2 percent. All three recovered some of their losses but remained in negative territory.
The U.S. Commerce Department hasn't yet submitted the final auto-import report to the president and has no further updates at this time, a spokesman said by email on Tuesday.
A draft report has been circulating inside the administration and has been the subject of high-level meetings in recent weeks. But the timing of a final decision remains unclear.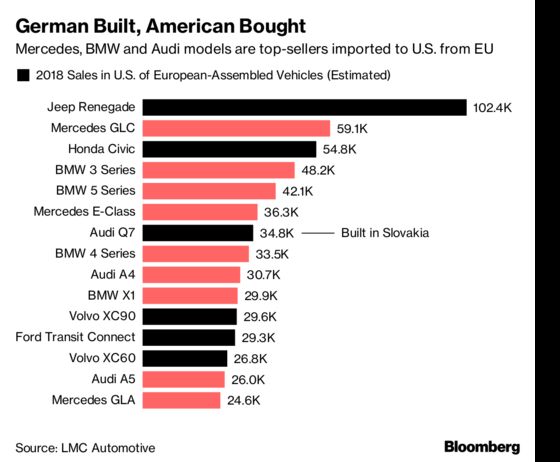 Trump would have up to 90 days after he formally receives the final report to take action. But he has also committed to both the EU and Japan not to impose any new tariffs while they are engaged in trade talks. Those talks are expected to ramp up in January.
A high-ranking German official who asked not to be named said he doesn't expect a decision from the Trump administration to come immediately, though the government is nevertheless preparing in case Trump acts unexpectedly.