EU Clears Hurdle to Unlock 1.8 Trillion-Euro Budget Package
(Bloomberg) -- European Union negotiators reached a deal on the bloc's long-term spending plans, moving a step closer to finalizing its landmark 1.8 trillion-euro ($2 trillion) budget and stimulus accord.
The EU is under pressure to wrap up the emergency package so that it will be operational next year, as the continent contends with a surge in coronavirus cases and the worst recession in its history. The recovery plan is expected to add 2% to the EU's economic output in the coming years, according to European Commission projections.
While leaders agreed on the broad outlines of the unprecedented package in July, the deal also had to get the green light from the European Parliament, which pushed for increases to its total size. The agreement between the two sides follows another accord last week on a mechanism linking EU funds to the rule of law and marks a major step toward ensuring aid will be available in the first half of 2021.
"I hope that everyone understands the urgency of the situation and will now help to clear the way for the swift implementation of the EU budget and recovery package," Michael Clauss, the German envoy in Brussels who represented EU governments in the talks, said in a statement. "No one needs new hurdles and further delays."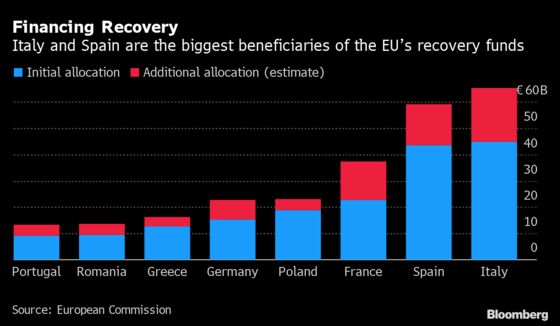 The deal, which allows the commission to raise 750 billion euros in jointly backed debt, needs final approval from EU lawmakers and governments. It also has to be ratified by the bloc's national parliaments, with Hungary having already threatened a veto over objections to the rule-of-law mechanism.
Still, the two recent accords on the rule of law and size of the budget mark significant steps in pushing the massive spending and recovery package over the line without much delay.
German bonds extended declines, with the 10-year yield rising three basis points to -0.48%, the highest level in seven weeks. Italian securities pared losses, while the euro traded steady at $1.1812.
Once agreed, disbursements from the recovery fund are likely to take place twice a year and will be linked to milestones that show countries are progressing with their reforms and investments. A first round of pre-financing, 10% of the funds, is expected to be paid out in the first half of 2021 while a second round could take place toward the end of next year or in the beginning of 2022.
The agreement foresees reinforced spending on programs lawmakers pushed for, including on research and biodiversity as well as an indicative timeline for the introduction of EU-wide taxes to repay the jointly backed debt.