EU Chief Slams Nord Stream Project, Adds Pressure on Merkel
(Bloomberg) -- European Union Commission President Ursula von der Leyen directly called into question the Nord Stream 2 gas pipeline, a cornerstone of German Chancellor Angela Merkel's energy policy.
The former German defense minister made the case for a more assertive foreign policy to tackle Russia. She believes it's wrong to think that pushing ahead with the pipe will improve relations with President Vladimir Putin.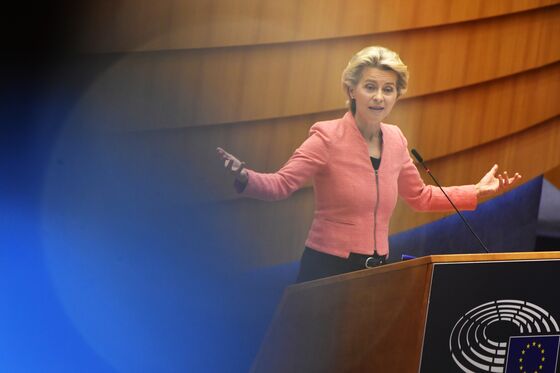 Merkel has become more open to the idea of ditching the almost completed Russian-German project after the poisoning of a vocal Putin critic who is being treated in Berlin.
"To those that advocate closer ties with Russia, I say that the poisoning of Alexey Navalny with an advanced chemical agent is not a one off," von der Leyen said in her state of the union address. "This pattern is not changing -- and no pipeline will change that."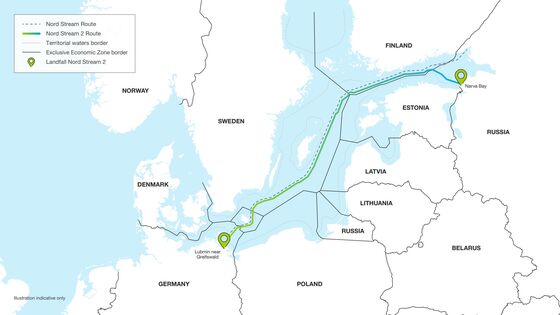 Merkel's government has until now defended the pipeline as a commercial project, albeit one with a geopolitical dimension. Berlin's position on the gas pipeline depends on Russia's response to its calls for a clarification in the Navalny case, government spokewoman Ulrike Demmer reiterated Wednesday.
Some in Germany, including Merkel's Social Democratic coalition partners, have embraced Nord Stream as a conduit to maintain ties with Moscow.Underscoring that support, Die Zeit reported that Merkel's finance minister, Social Democrat Olaf Scholz, offered to back the construction of two liquid natural gas terminals in Germany with as much as 1 billion euros ($1.2 billion) in exchange for the U.S. waiving Nord Stream through.
A spokesman for the finance ministry declined to comment about the report at a press conference in Berlin.
Scholz made the offer to U.S. Treasury Secretary Steven Mnuchin, putting in writing on Aug. 7, Die Zeit reported, without saying where it obtained the information. The U.S. has long lobbied for LNG exports to Germany.
The commission head also had strong words for China, calling it one of the EU's most challenging partners.
After a meeting with Xi Jinping this week, von der Leyen stepped up demands on China to open up its market further to foreign investors and questioned whether the Chinese leader truly wants to clinch an investment agreement with the bloc.
"There is still hard work to do on fair market access for European companies, reciprocity and overcapacity," von der Leyen said in her speech. "We continue to have an unbalanced trade and investment partnership."
Von der Leyen also appealed to member states to give up their vetoes in some areas of decision-making in order to allow the EU to act more decisively on human rights and sanctions measures.
"We must always call out human rights abuses whenever and wherever they occur -- be it on Hong Kong or with the Uyghurs," she said. "Why are even simple statements on EU values delayed, watered down or held hostage for other motives?"