Theresa May's Deal in Chaos After Raab Quits: Brexit Update
(Bloomberg) -- Brexit Secretary Dominic Raab has quit over Theresa May's draft Brexit deal, putting the prime minister's position in jeopardy.
Brexit Secretary Raab has quit, saying he can't support May's deal
EU has called special summit for leaders to sign off the deal on Nov. 25
Starmer says Labour will vote against May's deal
Raab Quits in Protest at May's Deal (8.55 a.m.)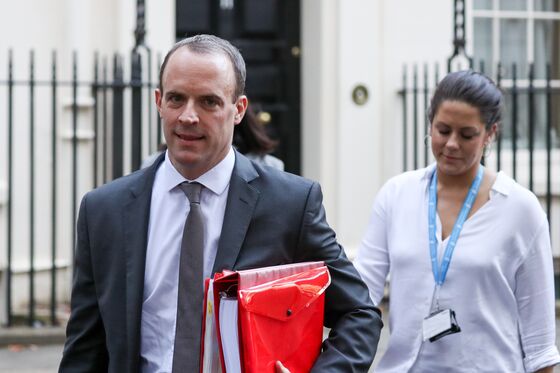 Brexit Secretary Dominic Raab has quit, attacking the deal. He said it threatened the integrity of the U.K., and gave the EU a veto over Britain's ability to leave the "backstop arrangements. "I cannot reconcile the terms of the proposed deal with the promises we made to the country in our manifesto at the last election," he wrote to May.
Hancock Warns No-Deal Brexit Would Be 'Messy' (8.30 a.m.)
Health Secretary Matt Hancock has been out defending the deal, and came close to confirming reports he told Cabinet that people would die if there was no Brexit deal. He told the BBC that no deal would be "very messy" and said the government was working "very hard" to secure medicine supplies. But he said that a lot of work was still needed.
Starmer Says Labour Will Vote Against Deal (7.55 a.m.)
Labour's Brexit spokesman Keir Starmer told the BBC his party will whip its members to vote against the draft withdrawal agreement when May puts it to the House of Commons. This means she will need every Tory she can to back her, and that's looking difficult.
The proposed deal is a "miserable failure" that is "not in the national interest," Starmer said. "We will vote against it."
Junior Minister Quits Over May's Plan (7.33 a.m.)
Shailesh Vara, a junior minister for Northern Ireland, quit in protest at May's agreement. He said her proposed deal will leave the U.K. "in a half-way house" locked inside the EU's trade regime with no end date in sight.
"We are a proud nation and it is a sad day when we are reduced to obeying the rules made by other countries who have shown that they do not have our best interests at heart," Vara said in his resignation letter to May.
He's a junior minister, so the departure isn't a major blow for the premier. But with every minister who quits, the chances of May getting the deal through Parliament look slimmer.
Tusk Calls Special Summit for Nov. 25 (7.28 a.m.)
European Council President Donald Tusk called a summit for leaders to sign off the agreement on Nov. 25 -- as long as nothing goes wrong before then. The pound was unchanged, as investors await more certainty.
"Let me say to our British friends," Tusk tweeted. "As much as I am sad to see you leave, I will do everything to make this farewell the least painful possible, both for you and for us."