Billionaire Czech Prime Minister Vows to Fight EU Conflict Probe
(Bloomberg) -- Czech Premier Andrej Babis vowed to fight back against allegations of conflict of interest that have put the spotlight on the media, agriculture and chemical empire that he founded before taking power.
Babis is under pressure after a European Commission audit found that he's maintained ties to his businesses, according to the Respekt weekly, which cited people with knowledge of the document whom it didn't identify. Babis rejected the accusations, saying he complied with the law by placing Agrofert, a conglomerate with $7 billion in annual sales, in trusts before taking power two years ago.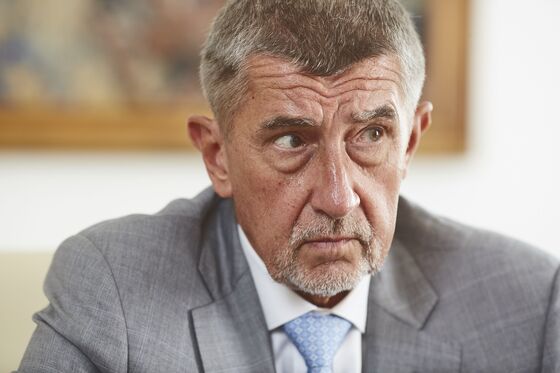 The audit puts Babis, who rose to power by attacking the political establishment and campaigning against Muslim refugees, firmly in the group of east European leaders on a collision course with the European Union over the rule of law. While he has avoided interfering with the judiciary and public media like his Hungarian counterpart Viktor Orban or Jaroslaw Kaczynski's ruling party in Poland, he resists further EU integration and has been the subject of two oversight probes by Brussels.
The EU executive said Babis has maintained ties to his businesses while influencing decisions that could have affected the amount of money they received from the bloc's budget. Babis said he didn't know the content of the report and disagreed with a statement by the EU Commission's spokesman that said the verdict was final.
"The Czech Republic, which has been opposing this from the beginning, will continue opposing it," Babis told Radio Impuls, one of Agrofert's media outlets, on Monday. He pointed out that the European Commission's report was finished "just a few minutes before" the new leadership of the bloc's executive arm took over.
The Czech Ministry of Local Development said Sunday the audit report is classified and the process isn't finished. Czech authorities will have two months to send their response and comments on the audit, the ministry said.
Babis, one of the richest Czechs, has argued in the past that that his nation's legal opinion differs from the preliminary findings of the EU's audit.
The conflict-of-interest case helped trigger the largest public protests since the fall of the Iron Curtain, in which hundreds of thousands of demonstrators demanded his resignation earlier this year.
But, buoyed by increases in pensions and public salaries, Babis remains the most popular politician in the country of 10.7 million. Support for his ANO party is at about 30%, according to opinion polls, more than twice that of the nearest competitor.
The alleged business ties are one of Babis's biggest political hurdles, and they prevented him from teaming up with his preferred center-right allies. After winning elections two years ago, he was forced into a minority government with the Social Democrats, and the coalition is now ruling with tacit support from the hard-line leftist Communist Party.
"If it's confirmed, then Andrej Babis should either resign or finally sell his companies," said Marketa Adamova, the leader of the opposition TOP 09 party. "The The fact that we're constantly dealing with how much the premier abuses his position is keeping us from solving major problems."