EU, U.K. Signal Progress in Defusing Spat Over Vaccine Exports
(Bloomberg) -- The European Union and the U.K. signaled a thawing of relations over vaccine sharing, just hours after the bloc escalated their long-running public battle with tougher restrictions on exports of shots.
"Given our interdependencies, we are working on specific steps we can take -- in the short-, medium- and long term -- to create a win-win situation and expand vaccine supply for all our citizens," the U.K. and EU said in a statement on Wednesday.
Officials on both sides signaled caution not to over-interpret and that this was not a supply deal, rather the beginning of a negotiation. A diplomatic rapprochement over the loaded political issue of vaccine nationalism had escalated after the EU indicated it was going to play hardball.
The bloc's leaders will discuss the vaccine situation during a video conference summit on Thursday.
The joint statement marked a positive end to another day of drama in Europe that at one point turned farcical with the discovery of a stockpile of 29 million shots in an Italian factory. The EU temporarily strengthened tools to prevent vaccines from going to countries that don't send doses back.
But the bloc wants to be practical.
"In the end, openness and global cooperation of all countries will be key to finally overcome this pandemic and ensure better preparation for meeting future challenges," the statement said. "We will continue our discussions."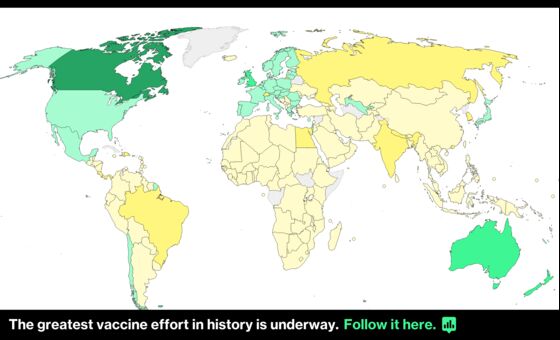 The EU decision on exports prompted criticism from the rest of the world and was greeted coolly even by some member states. It coincides with a darkening outlook in Europe as the infection rate climbs and governments face pressure over their failure to vaccinate citizens as quickly as the U.S. and Britain.
But with the U.K., which could have been impacted most heavily by the export plan, things looked to be moving in a more positive direction.
British officials were this week in Brussels negotiating with the European Commission over how to divide up stock from an AstraZeneca Plc plant in the Netherlands. That followed a spat over why the company was sending vaccines to the U.K. but wasn't meeting its commitments to the EU.
British Prime Minister Boris Johnson told reporters in London that all countries are "fighting the same pandemic" and his government will "continue to work with our European partners."
The prospect of the EU blocking shipments to the U.K. was adding drama to a relationship that was already fraught.
As well as disagreements over vaccines, the U.K. has refused to grant full rights to the bloc's ambassador in London while the EU is still smarting from the U.K.'s threat -- later withdrawn -- to break international law last year and rewrite the Brexit agreement.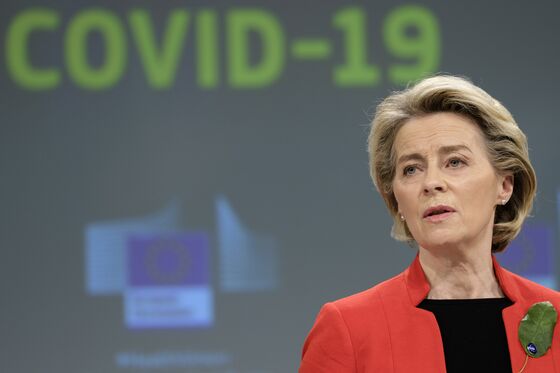 EU's export plan, there will still be no automatic bans. Officials will also take into account a nation's vaccination rate and pandemic situation when deciding whether to approve shipments.
While the bloc is a major exporter of vaccines, "open roads should run in both directions," Commission President Ursula von der Leyen said.
But for some governments, vaccine export controls should mainly be used to exert leverage in talks over access to shots.
Those countries will press the commission not to actually use such controls until all other avenues, such as negotiations with other nations and AstraZeneca, have been exhausted, according to one official from an EU country, who asked not to be identified because deliberations are ongoing.
Some countries are concerned that vaccine export controls could prove counter-productive, as they could spark tit-for-tat reactions which could damage the wider supply chain for shots.