EU and U.K. Reach a Brexit Deal, But It Quickly Hits a Snag
Prime Minister Boris Johnson's Brexit deal with the European Union was barely agreed before it ran into trouble at home, as his Irish allies in parliament said they could not support it.
Johnson and European Commission President Jean-Claude Juncker announced simultaneously on Twitter Thursday morning they'd reached a deal that could pave the way for Britain to finally break 46 years of ties with the world's largest trading bloc. EU leaders are now meeting in Brussels.
But while that sorted one key piece of the Brexit puzzle, Johnson still needs to get the agreement through the House of Commons, with a vote planned for Saturday as the prime minister seeks to deliver Brexit on Oct. 31.
The parliamentary arithmetic is very tight, the more so because three officials from Northern Ireland's Democratic Unionist Party said Thursday their party won't support the deal, citing concern about customs checks in the Irish Sea, among other things.
Johnson's been defeated in a string of crucial votes since taking office in July and lost his majority in the chamber. Nevertheless, the prime minister struck an upbeat tone as he arrived in Brussels.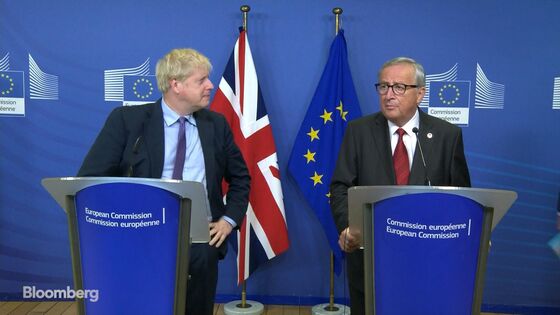 Five Takeaways From the U.K., EU Brexit Agreement: TOPLive
He said the deal is "a reasonable, fair outcome that reflects the large amount of work undertaken by both sides." The U.K. would leave the EU "whole and entire" on Oct. 31, Johnson said, in a nod to the DUP's concerns. EU leaders endorsed the agreement and called on the European Parliament to ratify it in time to meet the deadline.
Much of the wrangling over Brexit has been how to avoid a hard border on Ireland as a result of the split from the EU.
The DUP is opposed to Northern Ireland being treated any differently to the rest of the U.K. Under Johnson's deal, the region would still be subject to some of the EU's single market rules to mitigate the need for customs checks on the border with Ireland. That would, in effect, put a customs border in the Irish Sea.
As attention swung toward the vote at Westminster, Juncker offered support to Johnson as he tries to bring critics of his deal into line.
"If we have a deal, we have a deal and there is no need for prolongation -- that's not only the British view, that's my view too," Juncker said. "He and myself we don't think that it's possible to give another prolongation."
By ruling out another extension, Juncker is framing the vote in the House of Commons as a straight choice between Johnson's deal or no deal, just as the British leader has tried to do himself. That increases the pressure on undecided lawmakers in Westminster to back the government, but it also raises the cost of failure dramatically.
Still, the decision over whether or not to grant another extension isn't actually down to Juncker. That's something that has to be decided, unanimously, by the 27 EU leaders.
Without his Northern Irish allies, Johnson needs to pick up roughly 61 votes from a pool of about 75 deputies who might be persuaded to join him -- that will involve persuading hold-outs in his own party to side with him rather than the DUP. It's the final, treacherous hurdle for the U.K. leader to clear before he can complete his ambition of leading Britain out of the EU.
The pound rallied on news of the deal, touching $1.2990 before dropping again as the scale of the remaining challenge became clear. It traded 0.2% lower at $1.2812 at 2:37 p.m. in London.
If Johnson can pull off his deal, it will draw a line under three years of political turmoil since the U.K. voted to leave the world's biggest trading bloc. If he fails, Britain the prospect of a no-deal Brexit will also come into the equation again.
Here's a run down of the main pledges:
establish a wide-ranging free trade agreement
reach a deal on services that goes beyond WTO levels
agree equivalence for financial services firms
allow free movement of capital
establish visa-free travel for short-term visits
commit to a level playing field, with common high standards in state aid, competition, welfare, tax, and environmental matters
At a Glance: More Key Points of the Brexit Political Declaration
EU chief Brexit negotiator Michel Barnier told reporters in Brussels that he believes the deal can be ratified by the end of October. He called it a "fair and reasonable basis for an orderly withdrawal" by the U.K.
In a nod to the painful to-and-fro of the past three years, he also compared getting the deal done to climbing a mountain.
Labour leader Jeremy Corbyn called for a second referendum, saying in Brussels that Johnson's deal -- which he described as a "sell-out" -- was worse than that put forward by predecessor Theresa May. Scotland's first minister, Nicola Sturgeon, said her Scottish Nationalist Party will vote against the deal as well, complaining that it creates too great a separation from the EU.
One important question as the summit talks begin is whether EU leaders will be prepared to ratify Juncker's gambit. Ireland's Leo Varadkar and Denmark's Mette Frederiksen both warned against interfering in the U.K.'s domestic affairs.
"The best thing that we can do in Ireland is not to intervene or interfere in U.K. internal politics," Varadkar said. "It's up to the members of the House of Commons to decide whether they want a deal. As of now we have no requests for an extension. If and when a request is received we can consider it but not before then."