Ethiopian Leader Orders Final Assault on Dissident Capital
(Bloomberg) -- Ethiopian Prime Minister Abiy Ahmed ordered the army to begin an assault on Mekelle, the dissident Tigray state capital, after a 72-hour deadline for its forces to surrender expired.
Abiy ordered an incursion into Tigray three weeks ago, the culmination of months of tension between his administration and the northern state's ruling Tigray People's Liberation Front. Tens of thousands of people have been displaced by the fighting and there have been heavy casualties, although no accurate figures are available.
"The last peaceful gate which had remained open for the TPLF clique to walk through has now been firmly closed as a result of TPLF's contempt for the people of Ethiopia," Abiy said in a statement on Thursday. "All efforts will be made to ensure that the city of Mekelle, which was built through the hard work of our people, will not be severely damaged."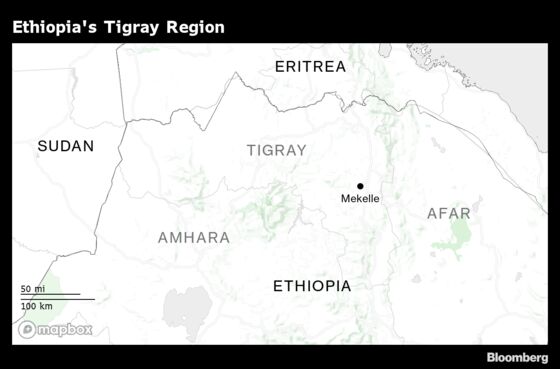 More than 500,000 people live in Mekelle and the United Nations has expressed concern they could be caught up in the crossfire during the forthcoming battle. Mounting a land-based assault on the city will be difficult -- it is situated in a hilly area accessed by steep, windy roads traversing ravines that drop off hundreds of yards on either side.
The defense force has a strategy to ensure civilians aren't harmed and will try to avoid damaging heritage sites, places of worship and other property, Abiy said. He urged Mekelle's residents to disarm, stay home and take all necessary precautions.
The TPLF, once the predominant power in Ethiopia's ruling coalition, has been progressively sidelined since Abiy took office in 2018. It angered the federal government by staging regional elections in September in defiance of a directive to postpone them and this month Abiy accused it of attacking a military base to steal weapons.
Debretsion Gebremichael, Tigray's president, has disputed the government's assertions that it's seized control of most of the region, and has said his troops are entrenched in defensive positions on all routes leading to Mekelle.
Shortage of cash and basic supplies are widespread across Tigray. Camps housing refugees from neighboring Eritrea could run out of food within a week and lose their water supplies because they can't access fuel to operate pumps, according to the UN Office for the Coordination of Humanitarian Affairs.
More than 41,000 people, including some 18,000 children have fled the fighting into neighboring Sudan, and cases of malnutrition have been reported among the new arrivals, it said in a report on Wednesday.
The federal government said it had assessed Tigray's humanitarian needs and it had begun distributing food, medicine, clean water and other essentials in areas under its control.
"The government stands ready to support all Ethiopians that have fled to return to their communities and is committed to work with UN agencies and other humanitarian organizations to protect civilians and help those
who need it," it said in a statement on Thursday.
International concern has been mounting that the turbulence could spill over into other restive regions of Ethiopia that have been dogged by protests and violence this year, or into neighboring states.
While Abiy has resisted calls for international mediation in the civil conflict or to institute a cease-fire, the 55-nation African Union has appointed former presidents Joaquim Chissano of Mozambique, Ellen Johnson-Sirleaf of Liberia and Kgalema Motlanthe of South Africa to mediate in the crisis. The three envoys are scheduled to hold talks with the government on Friday.
Janez Lenarčič, the European Union's Commissioner for Crisis Management met Ethiopian Deputy Prime Minister and Foreign Minister Demeke Mekonnen in Brussels on Wednesday and told him the conflict could no longer be considered as an internal affair -- as asserted by Abiy, according to an official with knowledge of their discussions.
Lenarčič stressed that the hostilities posed a risk to the entire region and Ethiopia could be in breach of international humanitarian law, said the official, who asked not be identified because the talks weren't public.
"The only solution lies in the urgent cessation of hostilities," Lenarčič said in a statement. "Until this is not the case, the threat of serious destabilization of Ethiopia as well as the wider region remains."
Demeke's office didn't immediately respond to a request for comment.
The EU has given Ethiopia more than 44 million euros ($52 million) in humanitarian support this year and another 4 million euros to assist Ethiopians who have fled to Sudan. It is backing the AU mediation effort.