Ethiopia to Close Two Refugee Camps Damaged in Tigray Conflict
(Bloomberg) -- Ethiopia is going ahead with plans to close two camps run by the United Nations' refugee agency in Tigray region, saying one is too close to the Eritrean border and the other is in an inhabitable location.
Hitsats and Shimelba camps were heavily damaged in Ethiopia's conflict in the northern region and the 20,000 refugees that sheltered there fled to nearby towns or to other refugee camps.
"Hitsats is in an arid area, in the Dedebit desert. It is not conducive to livelihood, not comfortable for the refugees," Agency for Refugees and Returnees Affairs Director General Tesfahun Gobezay told reporters on Tuesday. Shimelba is only 20 kilometers (12 miles) from the border.
Guidelines by the UN refugee agency recommend that camps should be at least 50 kilometers or a day's journey from national borders and potentially sensitive areas such as military bases. "But again, sometimes that's just not possible," said Chris Melzer, a spokesman for the United Nations High Commissioner for Refugees.
In January, satellite images showed the two camps had been destroyed extensively. Neither the UN nor ARRA have assessed the damage. Of the 19,200 Eritrean refugees that had been sheltering there, 4,600 have been relocated to Adi Harush and Mai Aini camps, Gobezay said.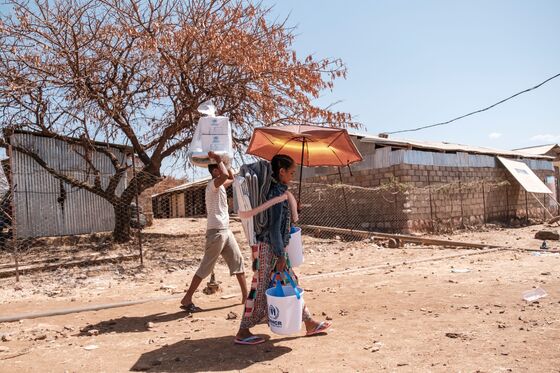 Moving them to Mai-Aini and Adi Harush may be in their best interest, given "all the current options and circumstances," the UN said in a statement.
"Considering the reports of attacks on Hitsats and Shimelba, the reports of abductions, destruction, looting, and killing of humanitarian staff, UNHCR concurs with the decision that the two camps can no longer be considered safe, and that the search for alternative and more secure sites is reasonable," it said.
Ethiopian federal troops entered Tigray in response to an attack on Nov. 4 and toppled the region's dissident ruling party that had set itself in opposition to Prime Minister Abiy Ahmed since he came to power in April 2018. While the government announced victory on Nov. 28, the region's leader has vowed to continue with the fighting that has killed thousands of people, displaced hundreds of thousands more and threatened to destabilize the Horn of Africa.