ETF Investors Pour Cash Into Politically Battered Mexico
(Bloomberg) -- The rush to invest in emerging markets is lifting one of the most politically volatile parts of Latin America -- Mexico.
With the MSCI Emerging Markets Index rising more than 6 percent since Oct. 31, the $1 billion iShares MSCI Mexico ETF, or EWW, raked in more than $183 million in November, the most since December 2016. That's a dramatic turnaround from earlier in the month when assets in the largest exchange-traded fund tracking Mexican stocks slumped to just under $720 million, the lowest in more than nine years, driven by an outflow on Nov. 8 that was the biggest since 2011.
Emerging Market ETF Inflows Hit $2.63 Bln, Most in 10 Months
What's more, EWW managed to bring in cash even as Mexico's peso took a hit, extending the strong sell-off seen in October as investors grew concerned about President Andres Manuel Lopez Obrador's policies. The president, who was sworn in Dec. 1, has rattled investors with some of his market-unfriendly actions, including the move to scrap a $13 billion airport.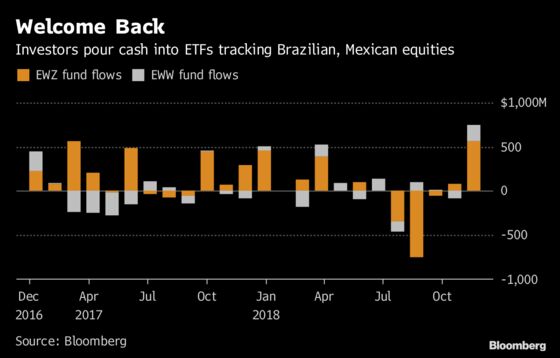 While investors welcomed reports that Lopez Obrador will offer to buy back bonds issued for the construction of the airport, his inauguration speech was less market friendly, as he unleashed a blistering attack on the energy industry overhaul passed under his predecessor and delivered a broader excoriation of privatization efforts.
The price of EWW fell to the lowest since July 2009 on Nov. 26, offering a major buying opportunity for investors seeking to increase emerging-markets exposure amid the favorable environment for riskier assets.
The largest exchange-traded fund tracking Brazilian equities also saw a cash surge in November. The $7.4 billion iShares MSCI Brazil ETF, or EWZ, took in $561 million last month, the most since February 2017, amid President-elect Jair Bolsonaro's pledge to adopt a pro-business agenda, including an overhaul in the nation's pension system and privatization plans.
Optimism that the Brazilian economy will continue to improve and that the new government will stabilize the national fiscal picture has been fueling investor optimism, according to Greg Lesko, a money manager at Deltec Asset Management in New York.
Brazil's Ibovespa equity index has jumped more than 18 percent since the beginning of the year, making it the third best performer among 94 global benchmarks, according to data compiled by Bloomberg.